Save Money on Groceries with Coupons
August 28, 2018, BY Emma Craig
We may not be able to extreme coupon in Canada like they can in the United States, saving hundreds and sometimes thousands of dollars in a single shopping trip, but that doesn't mean that we can't save a good chunk of change on our own trips to the store. I have been using coupons for over a year now and I have gotten better at maximizing their value to
save the most money I can
. I have put together a few tips to help you make the most of your coupons and of course save the most money!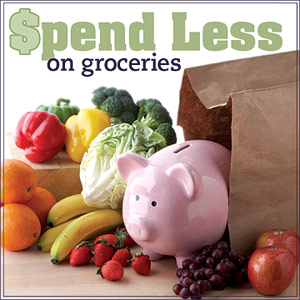 Look for Coupons Often
Coupons are available online on a regular basis. We always post the very best coupons to our
Coupons page
, so be sure to keep checking back frequently to see what hot deals we find next. You can print the coupons and bring them with you to redeem in store. Be sure to check for any terms and conditions (and the expiry dates!) before redeeming.
Shop Sales
For those of us who are serious about saving money, you already know that
flyers
are a great tool to make sure you get the products you need when they go on sale. There is often a pattern to when products go on sale and you can expect to the see the same sort of sales each year, every six months or even every three months. Knowing when these sales are will keep you on your toes about when to
stock up
and when to use those coupons. Every week I check the grocery store flyers for my neighbourhood to find out which stores have the best sales and which items I can use coupons for.
Lately, I have been
saving my coupons for when products go on sale
so I can save even more money! Keep an eye on those expiry dates though; you don't want your coupon to expire before you use them.
Make a List
Staying organized is the key to making sure your savings plan is quick and efficient. When you go through your flyers, make a list of all the items that you want to buy and
sort your coupons
so you have them ready for when you go shopping. Also, by keeping an ongoing list at home of the products you have run out of, will make it easier to avoid having to make multiple trips to the store in a week. By making only one trip it will make sure you have your list and coupons in hand to claim your savings.
Keep Your Coupons Organized
Nothing is more unfortunate in the coupon world is when you let a coupon you would have used expire! That's why it's so important to
keep your coupons organized
. I have a bin in my kitchen drawer at home that I keep all my coupons in, so that way none of them get lost. Then once a month I go through them and check expiry dates to figure out which ones I need to use sooner rather than later. By sorting them into piles it makes it easier to prepare for my weekly trip to the store.
What coupon tip do you use the most to help you save money? Share with us below!