August 28, 2023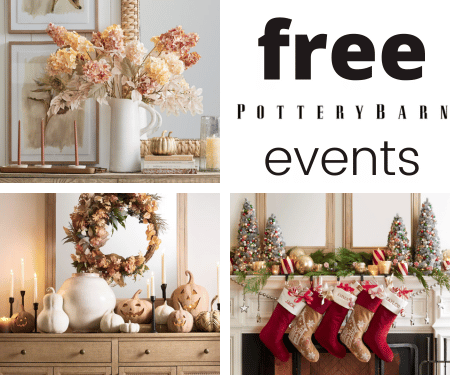 Free Pottery Barn In-Store Events
I just learned that Pottery Barn In-Store Events are a thing and they are FREE! Have you ever wanted to infuse fresh style into your living space but weren't quite sure where to start? If you're someone who's enthusiastic about design and home decor, there's an upcoming opportunity that you won't want to miss. Pottery Barn is hosting a series of captivating design classes at their local stores, and the best part? These events are absolutely free!
Pottery Barn's commitment to fostering creativity and helping you make your house a home shines through in these upcoming in-store events. Designed to inspire and guide you, these design classes offer a chance to immerse yourself in the world of interior design while learning from the experts. And while you might be wondering if there's a catch, let us assure you – this isn't a promotional stunt. We're here to share the authentic details on how you can be a part of this exciting experience.
Pottery Barn In-Store Events has an upcoming series of design classes which are carefully curated to cater to a variety of interests and occasions. From getting your home ready for Halloween to setting the perfect holiday table, each event promises to equip you with tips and tricks to elevate your decor game. Here's a sneak peek into what's on the horizon:
Design Class: Decorating for Halloween
Are you ready to create a spooktacular atmosphere? Learn how to craft inviting entryways, whimsical pumpkin displays, and outdoor decor that's delightfully eerie.
Design Class: Fall Decorating Updates
Date: Saturday, September 23, 9AM
Discover the art of refreshing your space with both significant changes and subtle accents. From statement pieces to ambient touches, get ready to embrace the cozy vibes of fall.
Design Class: How to Set the Holiday Table
Date: Saturday, October 7, 9AM
Gear up for a season of festivities by mastering the art of creating inviting tablescapes. Whether you're hosting a gathering or simply want to make everyday meals special, this class has you covered.
Design Class: How to Decorate Your Tree & Mantel
Date: Saturday, November 4, 9AM
Embrace the holiday spirit as you learn to adorn your home with merry decorations. From whimsical ornaments to mantel essentials, you'll be prepared to make your space shine.
These Pottery Barn In-Store Events are more than just classes; they're opportunities to connect with like-minded individuals who share your passion for design. So, how can you secure your spot? It's as simple as visiting the page linked below. While the events are free to attend, it's essential to note that space is limited. To ensure you don't miss out on these enriching experiences, make sure to register early.
In a world where opportunities to explore creativity are invaluable, Pottery Barn In-Store Events offer a chance to transform your living space into a masterpiece. Embrace the chance to learn, interact, and enhance your design skills without spending a dime. Mark your calendar and get ready to be inspired at Pottery Barn's upcoming in-store design events!
Want more free stuff? Check out our Free Samples Page