July 26, 2023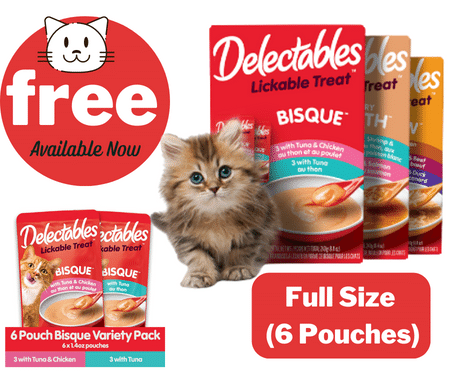 FREE Full Box of Delectables Licking Cat Treats
Fellow cat lovers can get a FREE Full Box of Delectables Licking Cat Treats! These gourmet wet delights have captured the hearts of millions of cats, including even the most discerning ones. And the best part? You can get them for free! Let me show you how you can qualify to receive this fantastic free sample made with love by Hartz.
First things first, let's learn a little more about these lip-smacking treats. Delectables offers a unique wet lickable treat, making it an ideal way to spoil your furry friend. Unlike traditional dry kibble, these treats come in six pouches filled with irresistible flavors that will leave your cat meowing for more.
To get your paws on this fabulous freebie, you'll need to answer a few simple questions. Don't worry; it's a breeze! By providing your responses, you'll be qualified to receive the full box of Delectables Licking Cat treats straight to your doorstep.
If you qualify, get ready for a delightful surprise arriving at your door. Your full box of Delectables Licking Cat treats (consisting of six pouches) will be sent to you completely free of charge. It's an excellent way to see if your beloved feline finds them as irresistible as millions of other cats do!
Want more free stuff?

Check out our Free Samples Page