August 24, 2023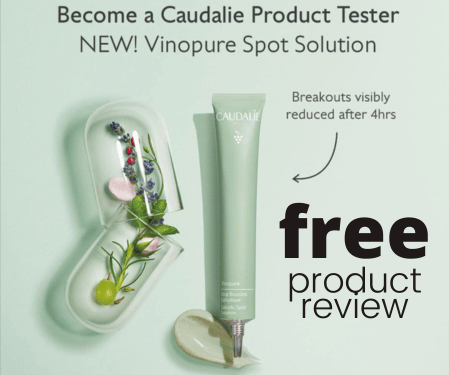 Become A Caudalie Product Tester For Samples
If you're a skincare enthusiast like me, I know you'll want to be a part of becoming a Caudalie Product Tester for samples! I know I'm excited about the opportunity to snag some free Caudalie goodies. I recently stumbled upon a way to possibly get your hands on free samples or even full-size products from Caudalie – yes, you read that right! And the best part? It's not some tricky ad scheme; it's all about engaging with Caudalie's social media and utilizing a few clever tactics.
Right now, in the quest to find Caudalie Product Testers in Canada, they hace decided to offer free product samples or potentially full-size items through sponsored posts. While I can't confirm whether these are full-size products, the chance to try out Caudalie's offerings for free is simply too good to pass up. So, here's a breakdown of how you might score these products without spending a dime.
1. Connect on Social Media:
Head over to Caudalie's Facebook and Instagram pages and give them a thumbs up by liking and following their profiles. This simple action helps you stay in the loop and increases your chances of spotting those sponsored posts.
2. Engage with Posts:
Engagement is key! Show your interest by interacting with Caudalie's posts.

Whether it's giving a post a like, leaving a thoughtful comment, or enjoying their reels and videos, every interaction counts.
3. Search Smart:
Use the search bar to look up the specific product you're interested in. For instance, if you're eyeing the Caudalie Vinopure Spot Solution, a quick search will help you find relevant information.
4. Explore the Official Website:
Pay a visit to Caudalie's website and explore the product you're interested in. This action sends signals to the social media algorithms, letting them know you're genuinely curious about becoming a Caudalie Product Tester.
By taking these actions, you're essentially telling the algorithms, "Hey, I'm really into Caudalie!" / "I want to be a Caudalie Product Tester". This makes you a prime target for those sponsored ads that could potentially lead to free product trials.
But wait, there's more! I also discovered the MYCAUDALIE loyalty program, which rewards you with exclusive gifts, including the possibility of receiving full-size products. It's like a skincare lover's dream come true. Make sure to check your account to see all the exciting gifts you can claim.
In a world where skincare products can be quite the investment, becoming a Caudalie Product Tester to try before you buy is worth exploring. So, go ahead and get proactive – who knows, you might just find your skincare holy grail through these free trials!
Remember, this isn't about my website or me offering the trial – it's about sharing the knowledge and helping fellow skincare enthusiasts potentially uncover their next favorite Caudalie product without spending a dime. Enjoy your journey to glowing skin!
Want more free stuff? Check out our Free Samples Page