December 8, 2022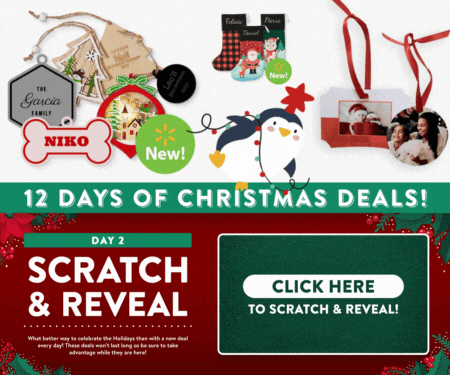 This offer can't be beat - for the next 12 days Walmart Photo Centre is going to give us a new deal and they are VERY festive. You will need to follow the directions on the linked page and create an account to scratch and reveal the daily deal. The promo codes can't be combined and the offer is generally good for one day only.
Day 1: a FREE 8X8 Print Book promo code 12D88PB (expired)
Day 2: $3 Value Ornaments (expired)
Day 3: $7 Photo Mug (expired)
Day 4: $4 Personalized Santa Letter (expired)
Day 5:  $5 6x8 Value Calendar (expired)
Day 6: Buy 1 Get 1 Custom Wrapping Paper (expired)
Day 7: Portrait Packages for $1.97 (expired)
Day 8: BIGI FREE Value Canvas (wall hanging)
Day 9: TBA
Day 10: TBA
Day 11: TBA
Day 12: TBA
Hurry and make your own photo gift today!
Click Here to Scratch & Reveal