November 8, 2023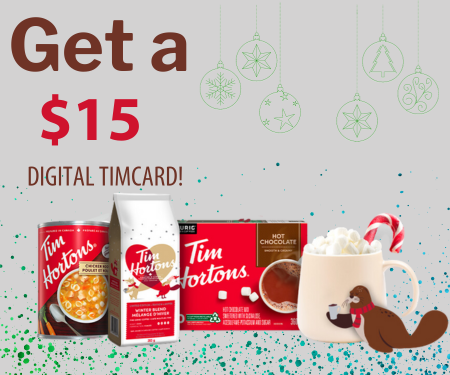 Get a $15 Digital TimCard
How to Score a $15 Digital Timcard – A Step-by-Step Guide
Are you a fan of Tim Hortons and want to enjoy a delicious meal at your favorite restaurant for less? You're in luck! In this blog post, I'm going to explain how I recently scored a fantastic deal that allows you to get a $15 digital Timcard to use at their restaurants.
Step 1: Purchase Tims® at Home Products
The first step to claiming your $15 Tim Hortons digital gift card is to buy $40 or more of participating Tims® at Home products. These products are available in stores between November 1, 2023, and January 5, 2024. Remember, this total should be before tax and after applying any coupons or discounts. It's a great opportunity to stock up on your favorite Tim Hortons goodies!
Step 2: Upload Your Proof of Purchase
Once you've made your purchase, it's time to claim your reward. You'll need to provide proof of your purchase by uploading a photo. Make sure to do this by January 12, 2024, to ensure you don't miss out on your $15 gift card.
Step 3: Receive Your Gift Card by Email
After successfully submitting your proof of purchase, you'll receive your $15 Tim Hortons digital gift card by email. This means you'll have $15 to spend on your favorite Tim Hortons treats, whether it's a hot coffee, a delicious breakfast sandwich, or a sweet snack. The digital gift card is super convenient and easy to use.
This deal is a great way to enjoy some savings while savoring your Tim Hortons favorites. Whether you're a regular customer or it's your first time trying their menu, this offer is too good to pass up.
Don't miss this opportunity to enjoy a meal at Tim Hortons for less. Follow these simple steps, and you'll soon be sipping on your favorite beverage or savoring a mouthwatering donut, all thanks to your $15 Tim Hortons digital gift card.
So, there you have it – a fantastic deal that's easy to claim and enjoy. Head to your local store, purchase those Tims® at Home products and get ready for some Tim Hortons deliciousness at a discount. You can thank me later!
Get started on your journey to a Tim Hortons feast with a $15 digital gift card today!
Want more free stuff? Check out our Free Samples Page