September 28, 2023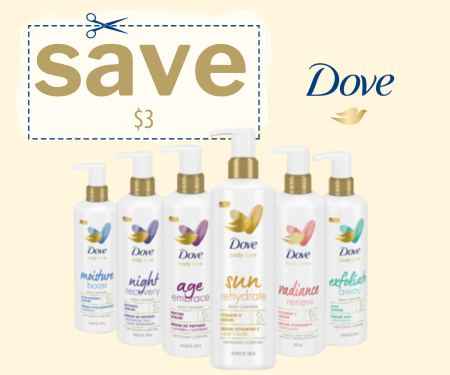 Save on Dove Body Love Cleanser
Looking to score a sweet deal on Dove Body Love Cleanser? You're in luck! I recently discovered a fantastic coupon that can save you $3 on any 517ml Dove Body Love Cleanser. Best of all, I'm here to explain how you can get your hands on this valuable discount and make the most of it.
To kick-start your savings journey, you'll need to access the coupon offer.
Here's what you should do: Head over to the source offering the $3 discount on Dove Body Love Cleanser. Once you're on the coupon source page, search for the coupon. It should be prominently displayed along with details of the discount. Now that you've found the coupon, it's time to get your hands on it.  Click on the coupon to select it, and you have the option to either print the coupon for in-store use or utilize a cashback option. Choose the method that suits your shopping style.
You've got the coupon, and now it's time to put it to good use. Here's how to redeem your $3 discount:
If you printed the coupon, take it with you when you visit a participating store that sells Dove Body Cleanser. Present the coupon at the checkout to enjoy your $3 savings.
If you opted for the cashback option, you'll need to load the offer, upload the receipt of your purchase and you'll get your money back.
And that's it – you've successfully saved $3! It's that simple and hassle-free. So, don't wait, follow these steps to get your coupon, and enjoy the benefits of Dove for less!
Want more free stuff? Check out our Free Samples Page