August 9, 2023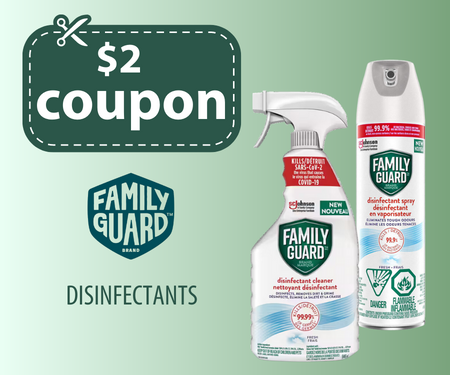 $2 Coupon for Family Guard
Want to save $2 with a coupon on Family Guard disinfectant?  I've got some awesome news to share with you. I recently found a fantastic offer that I couldn't wait to tell you about. Imagine being able to save a cool $2 on the new Family Guard disinfectant with a coupon. You can snag this deal without breaking a sweat.
There's this nifty coupon waiting for you to unlock a $2 discount on the innovative Family Guard disinfectant. Trust me, it's the real deal! Well, it's super easy. You have two options: you can either print the coupon and use it for your next purchase, or you can opt for the cashback alternative. Isn't that convenient? It's like getting a little extra back in your pocket, all while ensuring your home is squeaky clean.
You know those times when you're on the lookout for ways to cut down on expenses? Well, this is one of those moments. The new Family Guard disinfectant is already making waves, and now you have a chance to get it at a steal.
Grab that coupon before it slips away. Whether you're a print-and-clip kind of person or prefer the cashback route, the choice is yours. It's all about making your life a tad bit easier while keeping your surroundings safe and clean. So, there you have it – my little secret to saving on the new Family Guard disinfectant.
Want more free stuff? Check out our Free Samples Page