August 3, 2023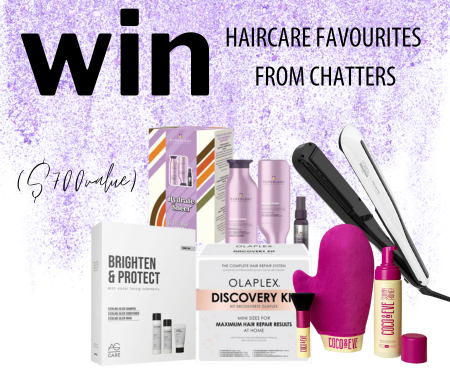 Win $700 in Haircare Favourites From Chatters
Want to win $700 in haircare favourites?  You have a fantastic opportunity to win a selection of haircare favourites valued at over $700! It's an amazing giveaway from Elle and Chatters, the largest professional hair product distributor in Canada, and I just had to tell you all about it.
Elle and Chatters partnered up for this giveaway of an incredible prize pack filled with must-have products that will leave your hair looking and feeling fabulous. Just imagine having these gems in your haircare collection. L'Oreal Professional SteamPod 3.0, Pureology Hydrate Kit, AG Care Sterling Silver Trio, Olaplex Discovery Kit, and a Coco & Eve Tan Masters Kit. Can you believe it? The total value of these goodies is a whopping $700! I couldn't believe my eyes when I saw the prize list.
All you need to do is head over to their website and look for the giveaway details. The entry process is straightforward, and it won't take much of your time. Just a few clicks, and you're in the running to win this incredible haircare package.
Don't wait too long! The deadline to enter is August 31, 2023, at 11:59 pm. So, make sure to mark your calendar and get your entry in before time runs out.
Imagine having top-notch products like the L'Oreal Professional SteamPod 3.0 to create stunning hairstyles effortlessly.

Or the Pureology Hydrate Kit to keep your locks nourished and hydrated. Not to mention the AG Care Sterling Silver Trio, perfect for maintaining gorgeous, silver-toned hair, and don't forget the Olaplex Discovery Kit, a haircare gem known for its transformative effects, also the Coco & Eve Tan Masters Kit, perfect for those sun-kissed looks.
I can already picture you with that amazing haircare bundle, and it's going to be a game-changer for your hair routine. So, don't miss out on this golden opportunity. Enter the giveaway, and who knows? You might be the lucky winner! Don't hesitate to take part and share this fantastic opportunity with your friends. Best of luck, and here's to having the most fabulous hair ever!
Want more free stuff? Check out our Free Samples Page