Possible FREE Sample of Clinique Smart Clinical Repair Wrinkle Correcting Serum
October 4, 2022, BY Emma Craig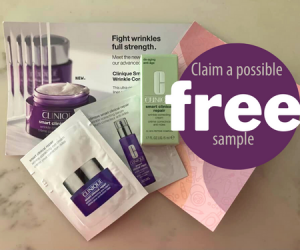 This is a 'Facebook Sponsored' offer, but it worked for me so I'm sharing. If you want to get this sample, you need to follow these directions and then pay attention as you scroll so that you can score the sample.
Go to the Clinique Canada Facebook and Instagram pages and have a look at their posts
Visit the Clinique website
Search for information about free Clinique samples.
Then all I had to do as watch on my Facebook newsfeed and Clinique offered me a Free Sample!