September 22, 2023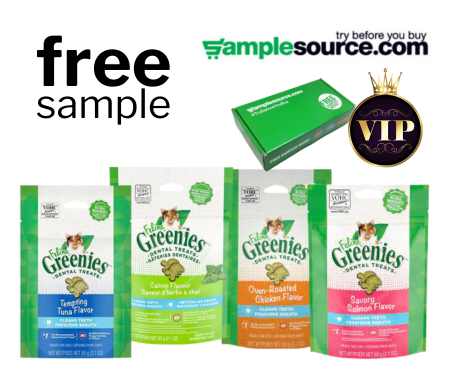 Sample Source VIP: Free Feline Greenies
Are you a lucky recipient of the Sample Source VIP treatment? If you are a pet owner, especially a cat here's some fantastic news for you! Sample Source, known for its generosity in sending out freebies and coupons to its members, has a delightful campaign underway. And guess what? It's all about your feline friend! We'll guide you on how to possibly get your paws on a free sample of Feline Greenies Dental Treats for Cats from Sample Source VIP.
If you're a SampleSource member, you're in for a treat! SampleSource regularly spoils its members with a variety of new products to try throughout the year. Now, they have unveiled a campaign that revolves around none other than Feline Greenies Products, specifically offering FREE Samples of Feline Greenies Dental Treats for Cats.
Getting your hands on this free sample is a straightforward process. Here's what you need to do. If you're already a member of SampleSource, keep an eye on your email inbox. They may have selected you as a VIP member based on your previous profile answers.

Being a VIP increases your chances of receiving this fantastic freebie. If you're one of the lucky VIP members, you'll receive a FREE Sample of Feline Greenies Dental Treats for Cats in just a few days!
It's essential to note that SampleSource offers FREE products and coupons exclusively to selected members. If you're among the fortunate ones, you'll soon enjoy the benefits of Feline Greenies Dental Treats for Cats.
SampleSource's generosity knows no bounds, and this time, it's all about pampering your feline companion. So, whether your cat is a seasoned treat connoisseur or trying them for the first time, keep an eye on your inbox for the chance to receive this purr-fectly delightful freebie!
Want more free stuff? Check out our Free Samples Page