September 22, 2023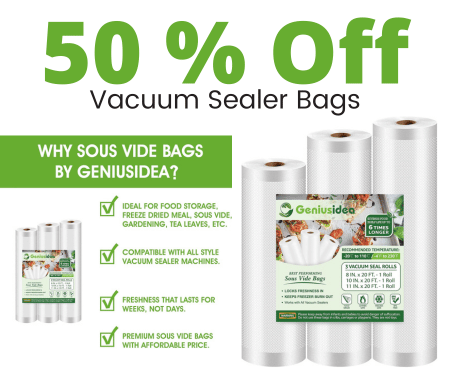 Get 50% Off Vacuum Sealer Bags
Disclosure: Free.ca is a participant in the Amazon Services LLC Associates Program, an affiliate advertising program designed to provide a means for sites to earn advertising fees by advertising and linking to Amazon.ca. As an Amazon Associate, we may earn commissions from qualifying purchases made through our links.
How to Score Big Savings with Geniusidea Vacuum Sealer Bags
Are you tired of your food going to waste too soon or not staying fresh enough? I recently stumbled upon an incredible deal that's helped me save big on food storage. Today, I'm excited to share with you how you can get your hands on Geniusidea Vacuum Sealer Bags at an unbeatable price.
These versatile vacuum sealer bags are actually rolls. They're designed to be your ultimate food storage solution. They are microwave, boil, sous-vide, dishwasher, and freezer safe. Not only are they perfect for storing meat, poultry, fish, vegetables, and fruits, but they can also safely preserve other items like jewelry, documents, and books. Plus, if you're into sous vide cooking, these bags can handle extreme cold and heat, making them a must-have in your kitchen.
One of the best features of Geniusidea Vacuum Sealer Bags is their compatibility with all clamp-style vacuum sealer machines. No need to worry about whether they'll work with your equipment. These heat-seal rolls are customizable, allowing you to cut them to the exact size you need, minimizing material waste.
Simply head to the page linked below, next, add a 3-pack of rolls to your cart amd click the 'redeem' button. This way they come up at about $13.

In case you don't see the button – this is the extra 50% promo code:
WW2QKRVO
.
That's it! You're all set to enjoy the benefits of Geniusidea Vacuum Sealer Bags at a fraction of the cost.
Want more free stuff? Check out our Free Samples Page
Remember, this deal is too good to pass up, and it's not going to last forever. In fact, don't wait; take advantage of it now and elevate your food storage game. Happy saving!