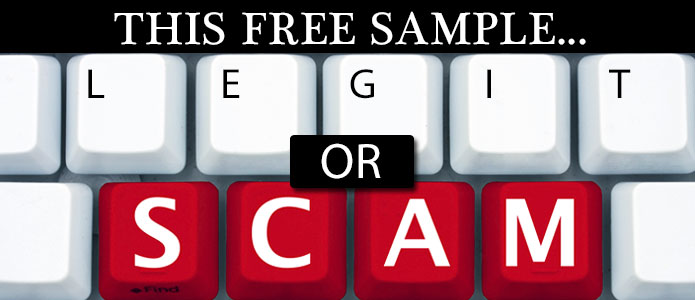 At
Free.ca
we search and
post free samples every day
, so naturally we come across a few "fake" free samples on Facebook, websites and other freebie sites. A lot of our fans have asked us
how we know if a sample is real or a scam
. To make sure that everything we post is a real offer, we go through a few steps to make sure that it is a true freebie first. Before we share samples on our site,
we fill in everything
to make sure it is working and get a clear picture on the ordering process. This helps us to make sure that everything is up to date and our fans know what is involved to get the offer. It can be hard to tell whether a sample is real or a scam at times, so here are
some tips
to help
you
figure out whether you have a real or fake offer.
When you first find a sample, it's always good to take a
look at their website
, Facebook page and other social media platforms they are using. This will give you an idea of how large of a company they are, how many fans or followers they have and what level of support they provide. Generally if it is a Facebook page or Twitter account with
only a few thousand fans, we won't post their sample
as they likely won't have enough for everyone.
Check the web address.
What is the URL in your browser? Is it the company's webpage, a blogpage or a random collection of numbers and letters? If the URL is the company's webpage you are generally pretty safe. Often companies will host samplings on blogpages by bigger companies like Woobox etc. These are often pretty safe as well. If you see in the URL a random collection of letters and numbers, be cautious because this could be the first sign that it could be a scammy offer.
You can't find any information the company.
If the company doesn't have its own website, this is generally a warning sign. If the company is giving away a sample and doesn't have a site to sell the product, tell you where to buy it or give more information about it, this is definitely a warning sign.
There is no contact information.
You should be able to track down phone numbers, an address, terms and conditions, privacy policy and shipping information from reputable companies. If you can't find any contact info then that is a red flag.
When in doubt Google it.
Often the freebie community will try and post when there is a fake sample out there so this is always a great resource to get other people's feedback about the sample.
If it's too good to be true, it probably is.
If an unknown company is promising a limited number of high value items (and it's not a draw), avoid filling out the form because they could be just trying to gather people's information and not send out anything.
The best kind of samples out there are from
big brands
that you know well such as L'Oreal samples, P&G samples, Kellogg's freebies, Poligrip samples and even Tena sample packs. These are brands that you know you can trust, so if you are ever in doubt about a sample,
ask yourself- is the risk worth the rewards
?
What was the best sample that you have ever gotten? Comment your finds below!