November 16, 2023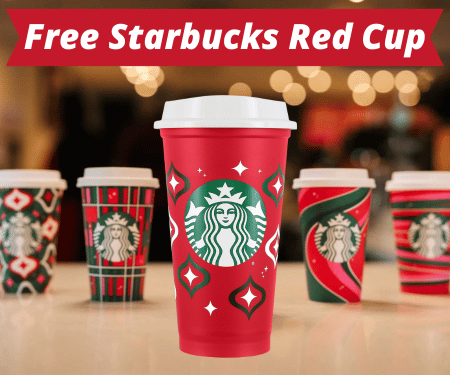 Free Starbucks Red Cup
Sip, Smile, Repeat: Unwrapping the Joy of Free Starbucks Red Cups!
It's the most wonderful time of the year, and Starbucks is spreading the holiday cheer with Red Cup Day! Get ready to add a festive touch to your sips because, for a limited time, you can snag a free reusable red cup when you purchase any handcrafted holiday drink. It's Starbucks' way of saying, "Cheers to you!"
Visit Your Nearest Starbucks: Head to your local Starbucks and indulge in the holiday spirit.
Choose Your Handcrafted Holiday Drink: Whether it's the classic Peppermint Mocha or a new favorite, pick your go-to holiday beverage.
Receive Your Free Red Cup: With your holiday drink in hand, Starbucks will gift you a reusable red cup as a token of their appreciation.
Hurry, They Won't Last Long!
Red Cup Day is a limited-time affair, and these festive cups are in high demand. So, don't miss out on this delightful gesture from Starbucks. Head to your nearest store, treat yourself to a handcrafted holiday drink, and let the joy overflow with your free reusable red cup.
Want more free stuff? Check out our Free Samples Page
Cheers to sipping in style this holiday season!