October 5, 2023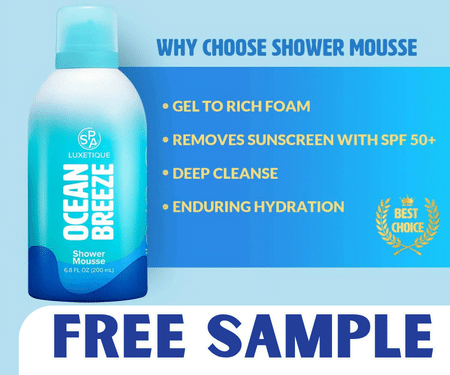 Free Sample of Ocean Breeze Shower Mousse
Claim your free sample of Ocean Breeze Shower Mousse and discover the enchantment of effortless bubbles. Are you ready to turn your shower routine into a luxurious experience that rejuvenates your senses and pampers your skin? Today, we're unveiling a secret that promises a playful, enchanting journey in the world of shower-time indulgence. Allow me to guide you through the steps to obtain your very own free sample from Spa Luxetique.
Ocean Breeze Shower Mousse offers a transformational encounter with bubbles that glide over your skin, creating a foam that cleanses and nourishes. The journey begins with delicate top notes of lily of the valley, bergamot, and citrus, enveloping you in an aura of freshness and allure.
Here's how you can get your hands on a free sample of Ocean Breeze Shower Mousse. Firstly, visit the Spa Luxetique Website through the link below. Secondly, complete the form making sure to fill in the necessary details to place your order for the free sample. Next, all that's left to do is wait! Your free sample will soon be on its way to you.
And there you have it – a simple guide to securing your own free sample of Ocean Breeze Shower Mousse. No complicated steps or hoops to jump through, just a seamless path to upgrading your shower routine.
If the idea of transforming your daily shower into a serene oasis of luxury speaks to you, why wait? Follow the steps outlined above and unlock the magic of Ocean Breeze Shower Mousse for yourself. Your skin, your senses, and your soul will thank you.
Stay updated by following Spa Luxetique on Instagram and dive into a world of effortless bubbles and everyday indulgence.
Want more free stuff? Check out our Free Samples Page
Here's to turning your shower into a haven of enchantment!