October 3, 2023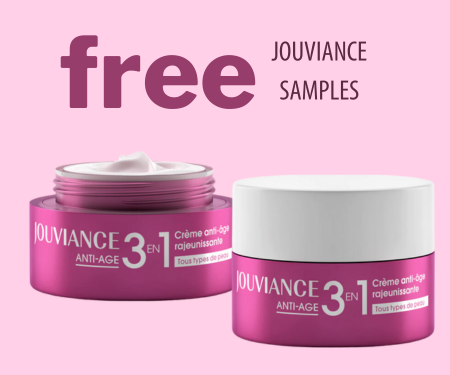 Free Jouviance Samples
Unlock Radiant Skin: How to Score Free Jouviance Samples!
Are you a skincare enthusiast always on the lookout for the next best thing in skincare? Look no further! We've discovered an exciting opportunity to get your hands on FREE samples of Jouviance's 3-in-1 Anti Aging Cream. Say goodbye to wrinkles, hello to smoother skin, and rediscover your skin's elasticity – all thanks to this fantastic offer.
Jouviance is a reputable skincare brand known for its dedication to healthy, vibrant skin. Their product range is designed to enhance and maintain your skin's natural beauty specifically. The star of the show right now is their 3-in-1 Anti Aging Cream, and you have a chance to try it for free.
Getting your hands on these coveted Jouviance samples is a breeze. While we don't have a direct link to share, here's a simple guide to increase your chances of spotting their sponsored ad on Instagram or Facebook:
Engage with Their Content.
Online Search: Don't hesitate to visit Jouviance on their official website.
In other words, Keep your eyes peeled for a sponsored ad that resembles the one shown below. It's your signal that you're one step closer to enjoying the benefits of Jouviance's 3-in-1 Anti Aging Cream.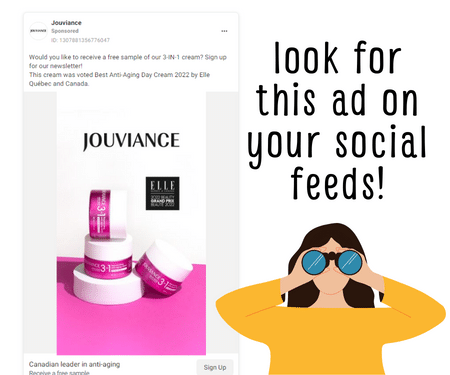 Radiant, youthful skin is just a few clicks away. Take a moment to follow Jouviance on social media, engage with their posts, and keep an eye out for that sponsored ad. This is your opportunity to experience the magic of Jouviance's skincare products without spending a dime.
Remember, we're not affiliated with this offer; we're just as excited as you are to share this fantastic opportunity. So, get ready to pamper your skin and embrace the beauty of free Jouviance samples!
Want more free stuff? Check out our Free Samples Page