November 12, 2023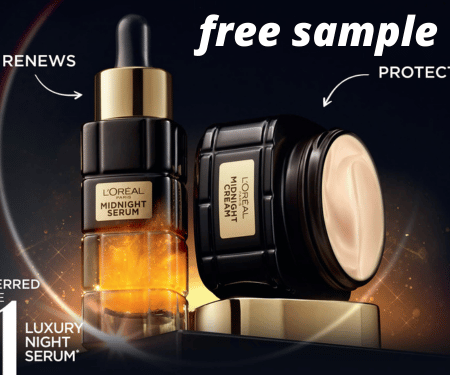 Free L'Oréal Midnight Serum
Unlocking the Secret to Ageless Radiance with Free L'Oréal Midnight Serum
Hello beauty enthusiasts! I've stumbled upon something too good not to share—L'Oréal Paris is giving away free samples of their Age Perfect Midnight Serum and Cream! Intrigued? I bet you are! Let's dive into how you can claim this radiant offer and elevate your skincare routine without spending a penny.
If you're ready to discover the midnight routine, L'Oréal Paris has your back. The Age Perfect Midnight Serum and Cream are designed to add a touch of luxury to your nighttime beauty regimen. But the best part? You can experience it for yourself with a complimentary sample.
How It Works:
Visit the Landing Page: Head over to the exclusive landing page titled "DISCOVER THE MIDNIGHT ROUTINE."
Claim Your Free Sample: Simply follow the prompts to claim your free Age Perfect Midnight Serum and Cream sample. No hidden fees or commitments—just a chance to pamper your skin.
Wait for Delivery: After claiming your sample, anticipate a little box of skincare goodness on its way to your doorstep. It's like a beauty surprise just for you!
Now, you might be wondering, "Why is L'Oréal being so generous?" Well, they believe in the power of sharing beauty. By offering free samples, they invite you to experience the magic firsthand. It's not just about selling a product; it's about creating a community of happy, radiant individuals.
So, what are you waiting for? Claim your free Age Perfect Midnight Serum and Cream sample now, and let the beauty adventure begin! Remember, this offer is too good to keep to yourself, so spread the word to your fellow beauty enthusiasts.
Want more free stuff? Check out our Free Samples Page