The new PC Optimum offers and points loyalty program was created in 2018 after Loblaws combined two of Canada's favourite and most rewarding programs: PC Plus and Shoppers Optimum.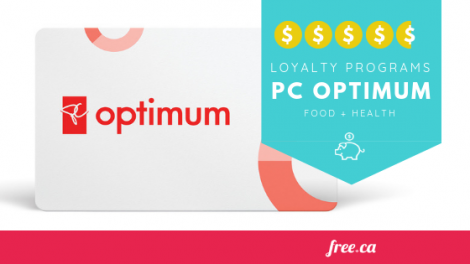 The new loyalty program covers over 2,500 grocery stores and pharmacies in Canada, so it's easy to build up points quickly. This is great news for us because it means more opportunities to cash in those points for free stuff! Keep reading to see what Canadians are asking about the new loyalty program:
What is PC Optimum?
PC Optimum is the new Loblaw loyalty program where you can earn and redeem points at all of their stores across Canada. Double check this list of locations because you may not even realize how many brands they own!
Loblaw
No Frills
Real Canadian Superstore
Valu-Mart
Independent
Fortinos
Wholesale Club
Maxi
Shoppers Drug Mart
Pharmaprix Pharmacies
What Does PC Optimum Replace?
Prior to the Loblaw company's purchase of Shoppers Drug Mart in 2018, Loblaw stores had PC Points while Shoppers Drug Mart had Shoppers Optimum Points (or Pharmaprix Optimum Points). In the old programs, points were earned on purchases made and those points could be redeemed towards free stuff like food, makeup, and baby items. This has not changed - PC Optimum offers are still redeemed using the point system. Some Canadians were concerned about losing points during the switch, but Loblaw assured everyone the transfer was done fairly:
"Any value that you've earned through the Shoppers Optimum and/or PC Plus programs prior to the launch of the PC Optimum program will be converted at full value. PC points were converted to PC Optimum points at a ratio of 1:1. That means that if you had $10 in PC points (or 10,000 PC points), for example, you now have $10 in PC Optimum points (or 10,000 PC Optimum points). Shoppers Optimum points were converted as outlined in the chart below."

- PCOptimum.ca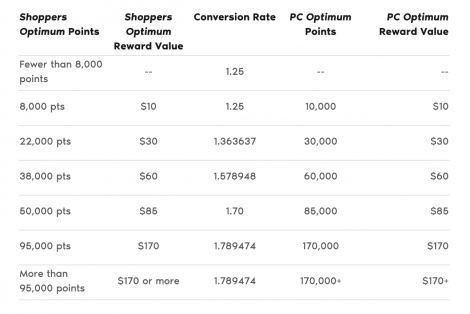 Now all Loblaw stores operate under the one loyalty program, PC Optimum, where customers use their card or the app to earn and redeem points.
The newest feature of the program are the "personalized offers". This is Loblaw using modern technology to track and learn what brands and items you buy so they can make your PC Optimum offers more relevant. If you're a PC Optimum member, you'll get these personalized offers every Thursday.
What Happened To Shoppers Drug Mart VIB Program?
Some of you may remember the Shoppers Drug Mart VIB, or Very Important Baby, rewards program that was designed specifically for Canadian parents with babies.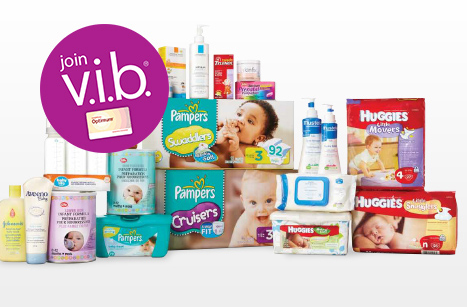 Unfortunately, Shoppers cancelled the program back in 2016, two years before PC Optimum offers, events, and coupons were officially rolled out.
There were some loyal fans of the VIB program, so if you're missing it, don't worry! There are plenty of other great programs that give out free baby samples including Huggies, Similac Club, and Ensure Club. 
Check out a complete list of the best ways to get free baby samples here or browse our daily baby samples, coupons, and contests now for more savings.
How do PC Optimum Points work?
Simply put, you can redeem PC Optimum points for free stuff. The program is simple with few rules, that's why we love it:
You can start redeeming your points once you reach 10,000 points
Every 10,000 points is worth a $10 credit at any Loblaw store
You can only redeem your points in multiples of 10
So 10,000 points are worth $10, 20,000 points worth $20, 30,000 points are worth $30, and so on
For example, if you redeem 27,000 points for the $20 credit, you'll still have 7,000 points leftover to use later.
How Do You Earn More Points?
There are several different ways to earn PC Optimum points:
1. Purchase Special Products
As always, you earn points on your regular purchases at Loblaw stores, but there are also special products you can buy for major points bonuses too. These products may be different at Shoppers than Loblaws and are sometimes only marked in-store, so make sure you're looking for them!
2. Plan for Bonus Point Events
Every once in a while, Shoppers will release coupons and have bonus point events where customers can earn extra points when they hit a certain purchase amount or during a certain time period. Former Shoppers Optimum members should be pretty familiar with this kind of loyalty program already!
Plan to replenish some of your basics during these bonus events to make sure you reach the spending minimum and maximize your savings.

3. Use Weekly Promotions
When it comes to groceries, Loblaw will update their PC Optimum offers weekly and you'll earn points for every dollar spent on specific promotional products. The products on promotion change every Thursday, but you'll often find grocery staples like bananas, cheese, bread, and meat on promotion regularly.
4. Claim Personalized Offers
Once you sign up for PC Optimum, you'll get a weekly email with promotional offers that are personalized for you based on your past purchases. So the more you claim your offers and buy from their stores, the better, more relevant coupons and sales you'll end up getting! All you'll need to do is click your email, load your PC Optimum offers, and start earning. Watch this video below to learn more about the new Personalized Offers:
5. Use a PC Financial Mastercard
Not everyone may want to take advantage of this option, but if you sign up for a PC Financial Mastercard and use it for your purchases regularly, especially your large purchases, you can earn more points and receive bonus incentives from time to time.
6. Get Gas at Esso
Esso has a partnership with Loblaws that includes them in the PC Optimum loyalty program. As of August 9th 2019, members can earn and use points at Esso locations across Canada.
"PC Optimum members will earn 10 points per litre on fuel, and 10 points per dollar on eligible convenience store or car wash purchases at Esso stations. Registered members may also receive personalized offers."

- PCOptimum.ca
One common question is do you get more points for a higher grade of gasoline? The answer is no, but if you use your PC Financial Mastercard to buy the gas you can earn more points that way.
Esso also has their own rewards program, you can learn more about Esso Extra here.
How Do I Sign Up?

You can register for PC Optimum for free right here. After registering:
You will receive a PC Optimum card and key tag in the mail
The key tag and card have the same account barcode, so family members can collect points on the same account
You can also pool your points with other members of your household
Household members do not need to be physically living together
There's a limit of 10 people per household
You can invite other members to your household through your account settings
You can check your personalized PC Optimum offers through your email and login to your account to check your point balance through the website. If you're looking for a quick option on-the-go, you can also use the new PC Optimum app (read more about how to use the app below).
How Do I Use the PC Optimum App?
Once you sign up, you'll want to download the PC Optimum app for your smartphone. The app will be synced to your card and/or key tag.
You can load PC Optimum offers on the app as well as earn and redeem points, as per usual. There is also a barcode on the app, so all you need to do is scan it while you're shopping! The app also has a section for weekly promotions, so you can see the best PC Optimum offers at all Loblaw stores near you. You can also use the app to see your account details, manage your cards, open a points inquiry, and check your balance.
Have more questions about the PC Optimum offers and loyalty program? Check out their full FAQ right here.
Were You Looking for PC Insiders?

In addition to PC Optimum, Loblaw also offers the PC Insiders subscription-based loyalty program:
Insiders subscribers can earn up 20% back in Optimum points on certain PC brands
They also get free shipping and grocery pickup on select services plus other incentives like a $99 travel credit for new members
An annual subscription is $99 and monthly subscriptions are $9.99
All 2019 members receive a yearly surprise box filled with select PC gourmet items such as chocolate, seasonings, and baking mixes.
You can learn more about PC Insiders and sign up here.
How Do We Rate This Program?
We believe PC Optimum is one of the best Canadian loyalty programs out there because it has so many locations to earn points at and it offers such a wide variety of items you can get with your points. I mean, who doesn't love free food and makeup?
Free.ca Rating of PC Optimum: 4.5 / 5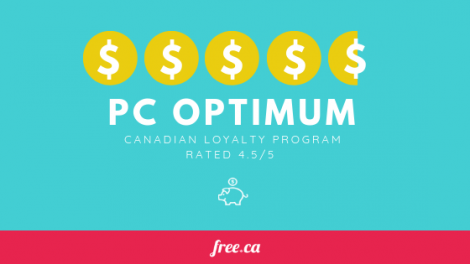 Why this rating? We ask ourselves five questions when we rate a loyalty program for customers:
1. Is it easy to sign up?
PC Optimum is free, easy, and offers multiple methods to use their program (the app, through email, and the website).
2. Is it easy to earn points and rewards?
As the #1 grocery retailer in Canada, Loblaw's PC Optimum loyalty program definitely has size on its side when it comes to the number of locations that participate. This makes it easy to earn points quicker, and also their point redemption system is very straight forward.
3. Are there different ways to earn points and rewards?
Yes! The size of the company means that there are many brands and other companies involved, which means we get special product bonuses as well as the Esso partnership.
4. Do rewards or points expire or have other limitations?
No, their points do not expire. There are sometimes limits on specific items that you cannot redeem points for, but this doesn't happen often. If you have more questions, check their terms and conditions.
5. Is it worthwhile to redeem points or rewards?
This is definitely a program worth signing up for, especially if you are buying groceries and toiletries for an entire family. The average Canadian can earn $200 a year in free groceries and other items, but it varies a lot depending on how much you use the PC Optimums offers and your own spending habits. And that's it! If you have other tips for us on how to earn more PC Optimum points, please leave them in the comments.
Looking for more ways to save on your grocery bill?
Take a look at today's food coupons, samples, and offers.
---
Looking for more great loyalty programs in Canada? Check out some of our favourite ones here: