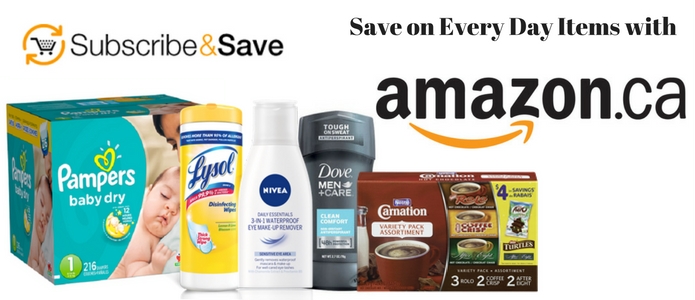 Do you always forget to grab some of the basic stock up items when you're doing your weekly shopping? Well have those items delivered right to your door when you need them AND get a discount on the price thanks to Amazon subscribe and save.
Choose from categories including baby, personal care, beauty, grocery, home & kitchen as well as pets. While not everything is the best deal you will find, there are some amazing deals that you don't want to miss out on. You don't have to worry about paying for shipping because it's completely free and you get to enjoy the convenience of having your products delivered right to your door.
The best way to organize your items is to add them to your Amazon cart, and then proceed with the subscribe and save for the items as you need them. After a few months you will have the perfect schedule for what you need and the savings to go with it!
How does it work?
Subscribe to your favourite brand name items and get up to 15% off your order. You can choose to subscribe to that item monthly, every 2, 3, 4, 5 or 6 months based on how often you need to stock up on it. To get the full 15% discount you need to subscribe to 5 items in that month. You can cancel the subscription at any time with no penalties and you don't pay for shipping of your order.
You get to choose the date that you need your monthly items on and Amazon takes care of the rest!
What are the best deals?
Diapers and Wipes
As most parents know, you rarely pay full price for diapers, because they are usually on sale somewhere at any given point. Not to mention coupons are common, if you know where to look. As a savvy shopper of diapers, I have found that the price on Amazon for brand-name diapers including Huggies and Pampers is superior to those sales in stores, especially when you factor in Subscribe and Save. The easiest way to tell a good price of diapers is to break it down to cost per unit, that way it doesn't matter how big the box is and you know how to compare them. *Note the discount on diapers is only 5% unless you subscribe to Amazon Family
These are the ones on my Subscribe and Save
Pampers Wipes
Pampers Diapers
---
Deodorant
A regular staple that most of us have extra of in our cupboard, but this one is handy to have delivered every couple of months, that way you won't worry about running out when it isn't convenient to run to the store.
These are the ones on my Subscribe and Save
Dove Women's Antiperspirant
Dove Men Plus Care Deodorant
---
Toothpaste
This is one of those easy (and cheap) add on items if you are short one thing for your 15% off using Subscribe and Save. I always keep this one around because the cost makes its easy to score big on your whole order.
These are the ones on my Subscribe and Save
Crest Toothpaste
---
Skin Care and Makeup
From morning until night, getting the right products for your skin and saving can be a really tough combination. These are some of the best deals on my Subscribe and Save and essential to keeping the cost of my general beauty products down.
These are the ones on my Subscribe and Save
Nivea Waterproof Makeup Remover
With a price of $7.77 at competitors, getting it for $5.32 is a steal! This is my favourite eye makeup remover because it does the job quickly and without being rough on my skin.
Garnier Cleansing Cloths
Almost $1 cheaper using Subscribe and Save, these Garnier cleansing cloths are a must on my monthly order.
Clean and Clear Face Wash
I keep this one in the shower to wash my face in the morning. With 15% off it is an extra dollar into my pocket, that really can add up!
Covergirl Mascara
With a price almost a $1 cheaper than what I can usually find it in store, this is a must on my list every couple of months.
---
Cleaning Products
Keep your home running smoothly by staying ontop of the cleaning products you use each week. From the inside of the toilet, to doing dishes, Amazon has you covered with your favourite brand name cleaning products.
These are the ones on my Subscribe and Save
Lysol Wipes
In addition to getting the 15% off, I also was able to use $1 off coupon!
Lysol Toilet Cleaner
Almost half the cost as it is in store, this is my favourite toilet bowl cleaner to use. With the Subscribe and Save, you can really cash in on the savings here.
Kitchen Sponges
These are handy in the kitchen and last longer than the traditional sponge. I also find they save me on the amount of soap that I waste when I wash dishes.
---
Food Items
Is your pantry looking bare? Amazon even has a few grocery items for you to check off your list and save on!
These are the ones on my Subscribe and Save
Carnation Hot Chocolate Packs
As we are moving closer into the cooler months, this will be a staple in my Amazon cart.
Vega Nutritional Shake
Whether you have trouble having breakfast or you just want to add some healthy nutrients to your diet, the savings on Vega is hard to ignore.
Starbucks Coffee K-Cups
Usually a $1 per K-Cup in the grocery store, these savings are a welcomed relief to my grocery budget.