December 3, 2023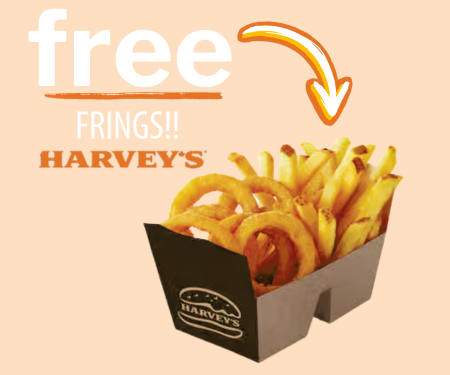 Free Harvey's Frings
Become a Burger Boss Club Member and Unlock Free Frings at Harvey's!
Hey, fellow food lovers! Do you have a soft spot for free food and scrumptious deals? Well, I've got some exciting news that'll make your taste buds dance with joy. Harvey's is giving away delectable perks through its "Burger Boss Club," and I'm here to tell you how to join in the feast. Let's dive in!
The Perks of Being a Burger Boss:
Joining the "Burger Boss Club" is your ticket to a world of mouthwatering benefits. Here's what's in store for you:
Free Frings: Who can resist the tempting combo of crispy fries and golden onion rings? As a club member, you'll enjoy Free Frings on your next visit. It's the perfect side to complement your burger!
Birthday Gift: We all deserve a little extra love on our special day. As a club member, Harvey's has a special gift waiting for you on your birthday. Get ready for a delicious surprise!
Delicious Digital Deals: Say goodbye to paying full price for your favorite Harvey's meals. Club members receive exclusive digital deals, ensuring your cravings are satisfied without breaking the bank.
Ready to indulge in these fabulous benefits? Here's how to become a proud member of the "Burger Boss Club:"
Visit the Linked Page: To start your journey towards free food and incredible deals, simply head over to the linked page.
Follow the Directions: The process is straightforward. Fill in a form with your information and sign up, you'll be on your way to becoming a Burger Boss in no time.
Not only will you get Free Frings, a birthday treat, and exclusive digital deals, but you'll also be part of a community of food enthusiasts. Joining the "Burger Boss Club" allows you to savor Harvey's mouthwatering offerings while keeping your wallet happy.
So, what are you waiting for? Embrace the burger-loving foodie in you, and join the "Burger Boss Club" today. Free food, birthday surprises, and budget-friendly deals await you. It's time to take your love for Harvey's to the next level! 🍔🍟
Want more free stuff? Check out our Free Samples Page