October 24, 2023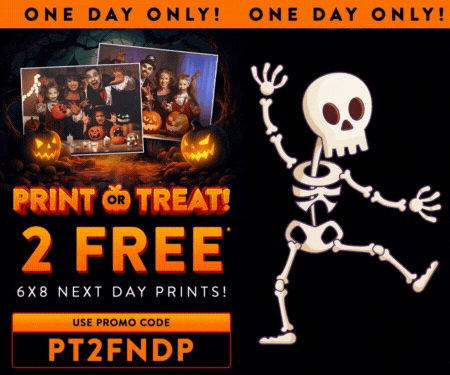 Two Free Walmart Photo Center Prints
Print or Treat: A Spooky Good Deal for Free Walmart Photo Center Prints! 🎃
Hey there, savvy readers! I stumbled upon a wicked deal today, and I can't wait to spill the beans on how you can snag it too. No, it's not your usual ad spiel; think of it more like sharing the good vibes.
What's the Deal?: Walmart Photo is throwing a Print or Treat extravaganza! Only for today, October 24, 2023, you can score yourself not one but two free Walmart Photo Center Prints with next-day delivery. The clock's ticking though; you've got until 11:59 pm EST to make this magic happen.
How to Get in on the Fun: First things first, no need to break the piggy bank. This deal comes with a refreshing "no purchase necessary" tag. All you need to do is hit the link below, toss two prints into your cart, and voilà – you're on your way to print paradise.
Unlock the Savings: Now, here's the secret handshake: use the promo code PT2FNDP when checking out. That's it! Two simple steps, and you've got yourself a treat that's better than a bag full of Halloween candy – some free Walmart Photo Center Prints.
Why It's Worth It: Okay, I know what you're thinking – what's the catch? Honestly, there isn't one.

This isn't some elaborate scheme; it's a one-day print party, and you're invited. Whether it's memories to frame or gifts for loved ones, these free prints are a steal.
So, there you have it, folks! A quick guide to unleashing the Print or Treat goodness. Head over to the link, grab those prints, and let the promo code do its magic. Don't miss out; after all, who doesn't love freebies, especially when they're for two ree Walmart Photo Center Prints that are this easy to snag?
Want more free stuff? Check out our Free Samples Page
Happy printing!