August 24, 2023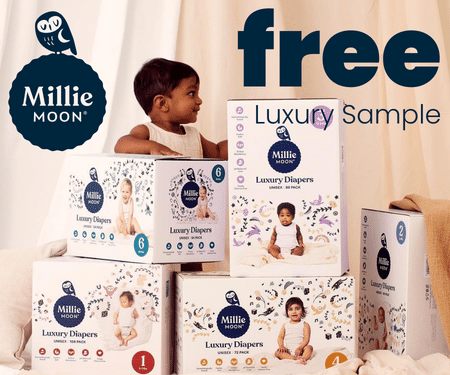 Free Sample of Millie Moon Luxury Diapers
I found a Free Sample of Millie Moon Luxury Diapers to share with you. If you're on the lookout for high-quality diapers that promise ultimate comfort and reliability for your little one, then this is something you won't want to miss. For a limited time, you can actually get your hands on a free Millie Moon Luxury Diapers sample pack!
Let me tell you a bit about these diapers first. Millie Moon Diapers are renowned for their exceptional quality and state-of-the-art design. They've got everything a parent could dream of – top-tier absorption, a snug fit, and unparalleled comfort. With these diapers, you can rest assured that your baby will stay dry and happy throughout the day and night. Honestly, they're a game-changer!
There is now a direct link for the free sample. Scroll down to try that way or read on to see the sponsored post option.
The exclusive free sample offer is available through sponsored posts on two of the most popular platforms – Facebook and Instagram. So, to get started, make sure you like and follow the Millie Moon page on either Facebook or Instagram. Better yet, follow both! Engage with the brand by liking their recent posts, leaving a comment, or watching a video they've shared. Show them some love!
Next, use the Facebook search bar to look up "Millie Moon Luxury Diapers" and visit their website to check out their awesome products. By doing these simple steps, you're already on your way to scoring that free diaper sample!
Now, keep your eyes peeled as you scroll through your Facebook or Instagram feed. Watch out for Millie Moon's sponsored post showcasing the free diaper sample offer. It will pop up eventually, and when it does, you'll know exactly what to do.
So, there you have it – the secret to getting your hands on a free Millie Moon Luxury Diapers sample pack. It's like a little gift from the diaper angels, and I couldn't resist sharing it with you. Give it a try, and soon your baby will be experiencing the comfort and reliability of Millie Moon diapers. Happy diapering!
Fill out your details to request a free sample of Millie Moon 🌙 luxury diapers. Here is the Direct Link
Want more free stuff? Check out our Free Samples Page