October 26, 2023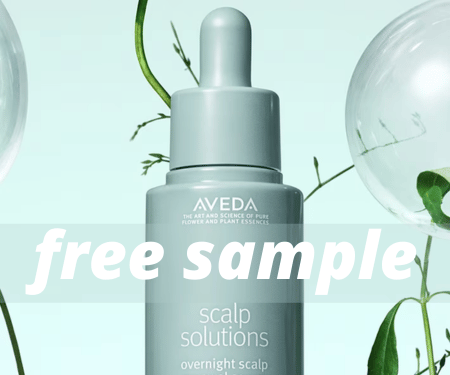 Free Sample of Aveda
How to Score a Free Sample of Aveda Overnight Scalp Renewal Serum
Are you on a quest for products that promise healthier hair and a rejuvenated scalp? Well, look no further because you're about to discover how to snag a free sample of Aveda Overnight Scalp Renewal Serum! Imagine waking up to nourished locks and a refreshed scalp. Aveda's Scalp Renewal Serum is your ticket to achieving just that. Whether your scalp tends to be oily, dry, or somewhere in between, this serum is designed to cater to all scalp types, and it leaves behind no heavy residue.
1. Follow Aveda on Facebook and Instagram
Aveda is currently offering free samples of their Overnight Scalp Renewal Serum through sponsored posts on Facebook and Instagram. To get started, follow these simple steps:
2. Engage with Aveda's Content
Show some love to Aveda by engaging with their content. Like five or more of their recent posts, or interact with the brand on social media by leaving comments or watching their videos and reels.
3. Use the Facebook or Instagram Search Bar
To make your quest for the Aveda Serum even easier, use the search bar on Facebook or Instagram.

Look up keywords like "Aveda Serum" or "Aveda Overnight Scalp Renewal Serum."
4. Visit Aveda's Official Website
For the final step, visit Aveda's official website and check out the Overnight Scalp Renewal Serum. Make sure you've completed the previous steps, and you'll be on your way to receiving this fantastic freebie.
It's as simple as that! Aveda's Overnight Scalp Renewal Serum could be on its way to your doorstep. Keep an eye out for sponsored posts that look like the one in the image below, and follow the steps above to claim your free sample of Aveda.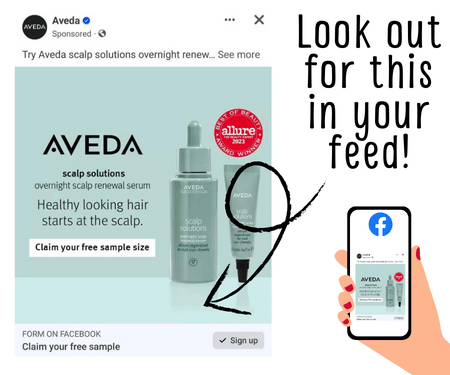 Say goodbye to bad hair days and hello to luscious locks and a revitalized scalp with Aveda's Scalp Renewal Serum. Don't miss out on this opportunity to pamper your hair and scalp for free!
Want more free stuff? Check out our Free Samples Page
Happy sampling! 😊