September 20, 2023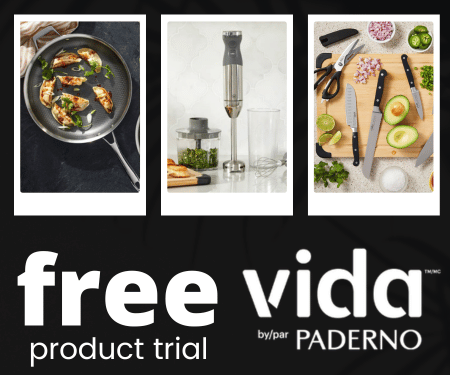 Free PADERNO® Kitchen & BBQ Tool Product Review
Free PADERNO® Product Review Opportunity
Hey there, kitchen aficionados!Imagine getting your hands on some of the most coveted kitchen and BBQ tools, and not just any tools, but the right tools for the right job! We're excited to share an incredible product review opportunity with you, and guess what? You can get some free PADERNO® Kitchen & BBQ Tools!
Butterly and Canadian Tire have teamed up with PADERNO® and Vida by PADERNO® to bring you a chance to try out these exceptional kitchen and BBQ tools. There are 11 different products available in this free PADERNO® product review including my top three: the PADERNO Hybrid Clad Frypan, the Vida by PADERNO Immersion Hand Blender and a Vida by PADERNO Stainless Steel Triple Rivet Chef's Knife.
Now, how can you possibly join in on this fantastic product review opportunity? It's a breeze. Simply click the link below and take a moment to complete the survey. Your input will help determine your eligibility for this exciting chance at free PADERNO® Kitchen & BBQ Tools. Let them know you're eager to try out one of these kitchen must-haves. Completing the survey is your way of saying, "Count me in!"
This opportunity is open to residents of Canada until September 21, 2023. So, keep an eye on your inbox for updates on how to participate in the product review. Remember, we're not here to advertise; we're here to share opportunities that could make a difference in your kitchen. We hope you're as excited as we are about the chance to test free PADERNO® Kitchen & BBQ Tools.
Want more free stuff? Check out our Free Samples Page
Good luck, and happy cooking! 😊