September 11, 2023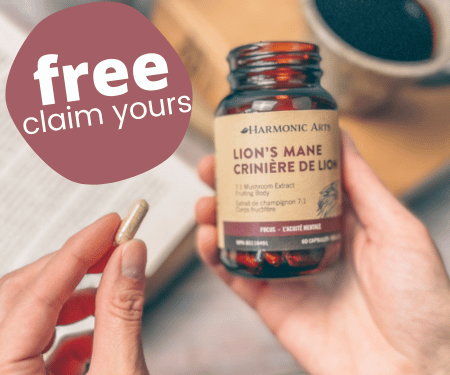 Free Lion's Mane Mushroom Capsules
Get Free Lion's Mane Mushroom Capsules – Discover the Magic
In today's fast-paced world, where productivity and focus are prized, people are actively seeking natural ways to enhance their cognitive abilities. Lion's Mane Mushroom Capsules from Harmonic Arts offer an exciting solution.
First and foremost, let's delve into the fascinating world of Lion's Mane mushrooms, steeped in Chinese folklore where they're celebrated for promoting "nerves of steel and the memory of a lion." But how can you claim your free bottle of these cognitive enhancers? To clear the air, it's important to emphasize that this offer isn't associated with our website in any way. We share your excitement about this incredible opportunity. Harmonic Arts is generously giving away a complimentary bottle of Lion's Mane Mushroom Capsules, and we're here to guide you through the process.
Claiming your free sample is a breeze. Simply visit the page linked below, locate the pink button that says 'Apply To Try', and follow their easy steps to claim your free bottle of 60 capsules.Lion's Mane mushrooms boast a remarkable range of benefits. For starters, they support the nervous system, enhance cognitive function, and boost focus.
Lion's Mane mushrooms offer a plethora of benefits. They actively support the nervous system, enhance cognitive function, and improve focus. Harmonic Arts' Lion's Mane Capsules undergo hot water extraction, ensuring a potent 7:1 ratio. This means each 200mg vegan, gluten-free capsule packs the punch of 1400mg of fruiting body Lion's Mane.
In summary, we've unveiled this fantastic opportunity to naturally boost your cognitive abilities. Ultimately, it's not about us or our website; it's about you discovering the potential of Lion's Mane Mushroom Capsules. So, don't hesitate – claim your free sample today. In essence, you can elevate your focus, support your nervous system, and enhance cognitive function, all without spending a dime.
Want more free stuff? Check out our Free Samples Page