June 6, 2023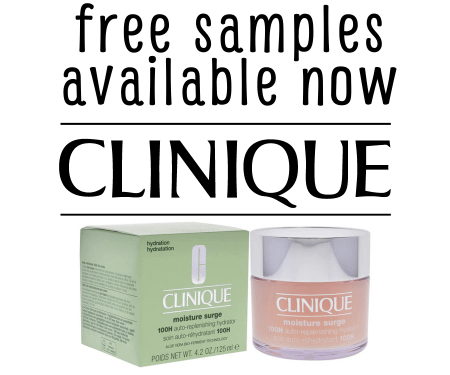 Exciting news, beauty enthusiasts: I found a free Clinique sample! Introducing the Clinique Moisture Surge 100-H Hydrator, an upgraded version of their beloved gel-cream moisturizer. And the best part? You can now get a FREE sample of this incredible product! We're thrilled to bring you this opportunity to experience the hydrating power of Clinique firsthand. Read on to find out how you can claim your free sample today! This is a 'Facebook Sponsored' offer, but it worked for me so I'm sharing.
The Clinique Moisture Surge 100-H Hydrator is an oil-free gel-cream moisturizer packed with exclusive aloe bio-ferment and hyaluronic acid. This powerful combination deeply penetrates the skin's surface, providing hydration that goes over 10 layers deep. This is great because even after washing your face, the effects last for a remarkable 100 hours. Say goodbye to dry and dull skin with this rejuvenating moisturizer.

Of course if you want to get this sample, you need to follow these directions and then pay attention as you scroll so that you can score the sample.
Go to the Clinique Canada Facebook and Instagram pages and have a look at their posts and like them.
Follow Clinique on TikTok
Visit the Clinique website
Search for information about free Clinique samples.
Then all I had to do as watch on my Facebook newsfeed!
Here's what to look out for:
Visit Clinique Here