November 10, 2023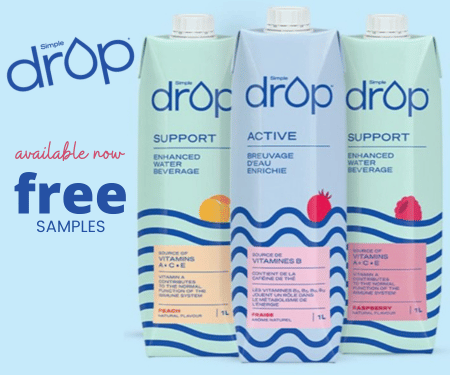 Apply to Try Simple Drop Enhanced Water
Dive into Hydration: Experience Simple Drop Enhanced Water for Free!
I stumbled upon an incredible opportunity for a free product trial, and I'm eager to share the refreshing details. Let's navigate through the simple steps to potentially score a complimentary trio of Simple Drop Enhanced Water beverages. Ever wished to try Simple Drop Enhanced Water without spending a dime? Your wish might just come true! Here's a breakdown of how you can participate in the product review and possibly enjoy these hydrating beverages for free.
Steps to Sip and Share:
Qualification Questions: Kickstart your hydration journey by answering a few quick qualification questions. It's the first step toward unlocking your chance to try Simple Drop Enhanced Water.
Purchase & Test: Once qualified, head to your nearest RCSS, Provigo, Yig, Zehrs, Loblaws, Metro Quebec, or IGA Quebec store and purchase all 3 flavours in any size/format within the next 3 days. Now, quench your thirst and put these beverages to the test!
Full Rebate Delight: Drumroll, please! After completing the steps, relish a full rebate in your Shopper Army account (before taxes; after coupons & discounts). Yes, it's that refreshing!
Important Reminder: Limited to 3 rebates per person, with a maximum of 1 per flavour. Don't miss out on this chance to refresh your palate. Apply to this mission before recruitment closes and secure your spot in this hydrating adventure.
Ready to sip your way into hydration bliss? Apply to try Simple Drop Enhanced Water, follow the steps, and revel in the joy of a full rebate. Act swiftly, as opportunities like these don't last forever. Here's to your upcoming Simple Drop hydration adventure!
Want more free stuff? Check out our Free Samples Page