September 19, 2023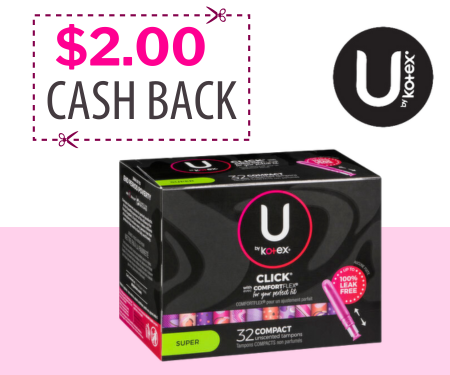 U by Kotex Click Tampons – $2 Cashback
Score $2 Cashback on U by Kotex Click Tampons! Hey there! I've got some exciting news to share with you, I recently stumbled upon an awesome deal that I couldn't wait to tell you about. Imagine getting $2 cashback just for buying a product you already use. Yes, you read that right! I'm talking about U by Kotex Click Tampons.
Checkout 51 has come up with an amazing offer that lets you earn $2 in cashback when you purchase U by Kotex Click Tampons with a minimum count of 30. No strings attached, no gimmicks, just pure savings.
Here's how you can get in on this deal. First, you'll need to head over to Checkout 51 and create an account. It's a breeze, and it's free. Plus, once you're in, you'll discover a treasure trove of other cashback offers waiting for you. Log into your brand-new Checkout 51 account.

It's as easy as pie, just use the credentials you just created.
To access all the fantastic offers available, make sure you set your location. This helps Checkout 51 show you the best deals available in your area. Now comes the fun part, browsing through the offers. You'll find a variety of products to choose from.
Head to any store near you that carries U by Kotex Click Tampons with a minimum count of 30. Don't forget to add them to your cart! After your shopping spree, keep your receipt handy. You'll need it to claim your cashback. Simply snap a photo of your receipt and upload it to Checkout 51.
Sit back and relax. Checkout 51 will process your submission and, before you know it, you'll have $2 cashback credited to your account. You can cash out this money or use it for future purchases, it's entirely up to you!
It's that easy! No hidden fees, no complicated steps, just straightforward savings. So, what are you waiting for? Head over to Checkout 51, snag your U by Kotex Click Tampons, and let the cashback start rolling in. Don't miss out on this opportunity to save a few bucks effortlessly!
Want more free stuff? Check out our Free Samples Page