August 24, 2023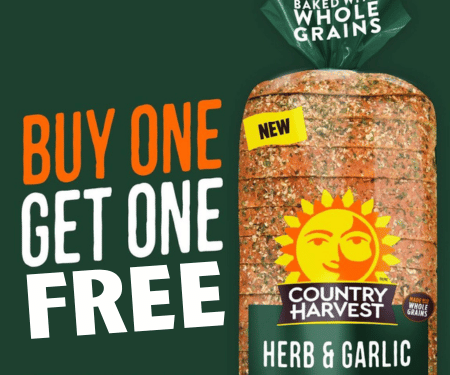 BOGO FREE Country Harvest Bread
BOGO FREE on Country Harvest Bread means it's time to stock up! I recently came across a fantastic coupon that could save you some serious dough. And the best part? When you buy any Country Harvest® loaf or bagel, you get a FREE loaf of the NEW Country Harvest® Herb & Garlic. That's right; it's a two-for-one special on delicious, wholesome bread! Talk about a treat for your taste buds and your wallet.
Once you've claimed the coupon, you can head to your favorite grocery store or retailer that carries Country Harvest® products. Browse their selection of loaves and bagels and pick the ones that catch your eye. Remember, you can mix and match flavors to suit your preferences!
At the checkout, present your coupon to the cashier, and voilà – the price of the Country Harvest® Herb & Garlic loaf will be deducted from your total. It's like getting a little gift from Country Harvest Bread just for being a smart shopper!
Please note that this coupon offer is not from my website or me; I'm simply here to share the excitement and let you in on the secret to getting this amazing deal. Country Harvest® is being generous with their Buy One, Get One or BOGO Free promotion, and I'm thrilled to explain how you can score big savings too.
So, don't wait any longer! Click the link below, get your coupon, and head to the store to enjoy some delicious Country Harvest bread.

Happy shopping and happy saving!
Want more free stuff? Check out our Free Samples Page
Note: Please make sure to check the landing page for any terms and conditions, and ensure the coupon is valid at your preferred stores. Enjoy your Country Harvest® bread experience!