Win a KitchenAid, $300 in Groceries, Fruity Pebbles Prizes & More
September 27, 2022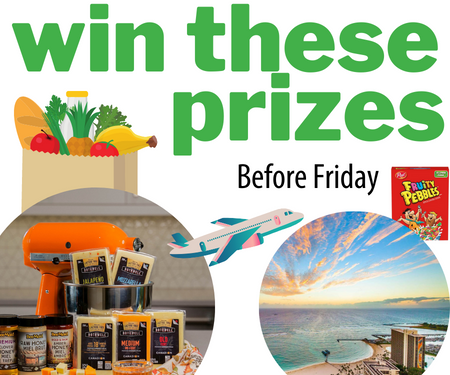 Here's a quick way to enter for a chance to WIN a bunch of great prizes! Best part is that ALL of these contests end before October 1, 2022 so you could be claiming them soon! In the past I used to hate entering to win prizes and getting nothing BUT that was before I actually started to win stuff. The truth is you can't win if you're not in and this is your chance to take advantage of my hard work finding offers and get your name in all from one easy spot. Here we go!
First up is a chance to WIN $300.00 worth of Butterball and Dempster's vouchers and a grocery store gift cards. Click here to enter now! Bonus offer: click here and drop a comment for a chance to win a Butterball gift certificate.
Enter to WIN a special edition Honey-coloured KitchenAid Stand Mixer, a selection of BeeMaid Honey and Bothwell's NEW Lactose-Free cheeses! Click here to enter now!
  Enter to WIN all kinds of cool cereal swag including: Fruity Pebbles™ Backpacks Fruity Pebbles™ Insulated Water Bottles Fruity Pebbles™ 9" Flyers Fruity Pebbles™ Baseball Caps Fruity Pebbles™ Fanny Packs Fruity Pebbles™ Bookmarks Fruity Pebbles™ Sunglasses Fruity Pebbles™ Coloured Pencils Fruity Pebbles™ Notebooks Click here to enter now!
Don't miss this chance to WIN a trip to Waikiki Beach in Honolulu, Hawaii to stay at the Hilton Hawaiian Village Waikiki Beach Resort! Click here and enter now!