June 16, 2023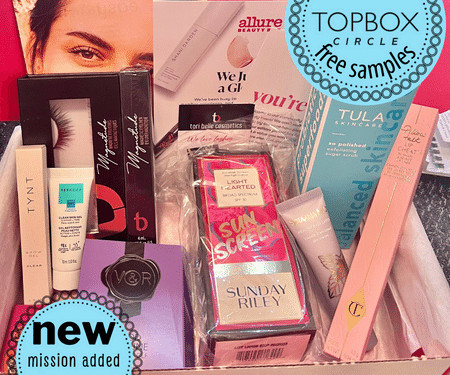 Beauty Samples In Canada: New Missions From Topbox
I'm always looking for ways to get free beauty samples in Canada. If that sounds like you, then this is the right place. I'm glad to be the one who introduces you to the amazing Topbox Circle Sampling Program. In case you're curious, Topbox offer businesses a way to get the honest review of consumers in Canada by way of product samples. What's more, these samples are often full-sized products. In brief, if you're a fan of trying new products and sharing your opinions on beauty samples and you live in Canada, this program is perfect.
All you need to do is head to the page I have linked to and sign up. Once you do that you can check your dashboard for missions. These missions are really short surveys that relate to beauty samples in Canada. Answer honestly because your eligibilty is based on your answers. When I have been chosen to test, I have gotten an email from Topbox and then received the product in the mail. I have gotten a lot of full-sized beauty samples in Canada by mail, free of charge, and you can too.
Currently open trials include:
Free Sample of Liquid I.V.


Hydration Multiplier – Ends Jul 20
Make sure to head to the linked page and complete your missions to be matched with free sample.
To complete your mission click here.