September 21, 2023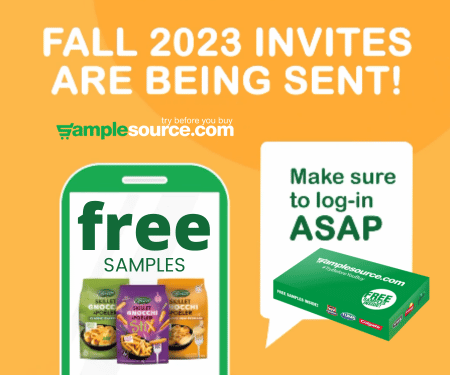 SampleSource is Live Now: Free Box of Samples
Unlocking the Secret to Scoring a Free Box of Samples with SampleSource
Have you ever wondered how some people seem to effortlessly snag fantastic freebies? Well, it's time to let you in on a little secret – SampleSource. This isn't just about free samples; it's about making smart shopping decisions and getting the most out of your shopping experience. So, how can you get in on the action? Let's dive right in.
What is SampleSource?
SampleSource is a treasure trove of free samples covering a wide range of products – from makeup and beauty care to household cleaning items and even delicious snacks. It's like a mini shopping spree without spending a dime. But here's the catch: the free box of samples is through email invitation only. So, keep a close eye on your inbox for that golden ticket – your SampleSource invitation!
The Magic of "Try Before You Buy"
The concept behind SampleSource is simple but brilliant – "Try Before You Buy." It's all about giving you the chance to experience products firsthand before committing to a purchase. Imagine getting to test that new skincare product you've been eyeing or sampling a delicious snack before adding it to your grocery list. Gettin a free box of samples with SampleSource empowers you to make informed choices and ensures you love what you buy.
How to Score Your Free Samples
Keep an Eye on Your Emails: As mentioned earlier, the gateway to SampleSource is through email invitations. When that invite lands in your inbox, don't hesitate – open it immediately!
Claim Your Samples: Once you receive your email invitation, follow the provided instructions to claim your free samples. It's typically a straightforward process that involves selecting the products you'd like to try.
Be Quick: Here's a valuable tip – quantities are limited. It's a first-come, first-served system, so don't delay. Select your free box of samples promptly to ensure you get the ones you desire.
One Package per Address: To ensure fairness, SampleSource limits one package per address, email, and IP. Duplicate orders are removed, so make sure to select the samples you genuinely want.
The Joy of Unboxing
When your SampleSource package arrives, it's like receiving a surprise gift. Open it up and explore the free box of samples you've chosen. It's a moment of excitement and anticipation as you try out new products, discover favorites, and, ultimately, make more informed shopping decisions.
Want more free stuff? Check out our Free Samples Page
So, there you have it – the secret to unlocking free samples with SampleSource. It's not an advertisement; it's a fantastic opportunity to enhance your shopping experience. Keep an eye on your emails for that coveted invitation, and start enjoying the thrill of "Try Before You Buy." Happy sampling! 🎁✨