July 24, 2023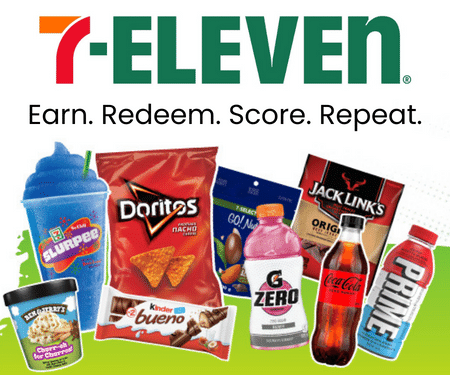 Free Treats from 7-Eleven Rewards
Join 7-Eleven Rewards and Get Ready for Free Treats!  Well, I discovered a fantastic offer that I just had to share with you. Get ready for some tasty freebies! By joining 7-Eleven Rewards, you can snag a FREE snack or drink. How awesome is that? I couldn't resist, and I thought you'd be just as thrilled about this opportunity!
All you need to do is download the app or register on the 7-Eleven website. It's quick and easy, I promise! Once you're a member, you can start earning points on your everyday purchases at 7-Eleven. It's like getting rewarded for treating yourself!
Those points you earn can be redeemed for FREE food or drinks. Yes, you heard me right! Simply accumulate points and use them to enjoy your favorite snacks or beverages without spending a dime. When you sign up for the first time, you'll receive bonus points that you can use towards an extra FREE item.

How amazing is that? It's like an extra treat just for joining the 7-Eleven Rewards family!
Plus, keep an eye out for select bonus point items. These special products will earn you even more points, allowing you to enjoy rewards faster. It's all about maximizing the benefits and savoring the perks of being a 7-Eleven Rewards member.
Download the app or register today, start earning those points and get ready to indulge in your favorite treats without spending a penny. It's the perfect way to satisfy your cravings while saving some cash!