November 23, 2023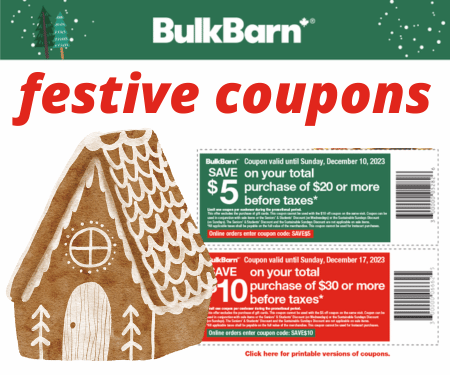 Bulk Barn Festive Coupons Available Now
Unlock Savings with Bulk Barn Coupons: Here's How
If you're a savvy shopper always on the lookout for ways to save, we've got exciting news for you! Bulk Barn is offering brand new coupons and deals that can help you trim down your shopping expenses. The best part? It's a simple process that anyone can take advantage of. Let's dive into the details on how you can snag these coupons and maximize your savings.
Getting your hands on these money-saving coupons is a breeze. Bulk Barn has made it incredibly convenient for shoppers to access them. No need to jump through hoops or sign up for lengthy memberships. Simply head over to the official Bulk Barn website or visit their store. You'll find the coupons prominently displayed, making it easy for you to grab the offer that suits your shopping needs. Bulk Barn is giving you options when it comes to saving. Depending on your purchase value, you can choose between two enticing deals:
Save $5 off $20 Purchase:
This option is perfect for those looking to make a smaller purchase while still enjoying a significant discount.
Save $10 off $30 Purchase:
If your shopping list is a bit more extensive, this coupon is tailored to provide you with generous savings.
Once you've selected the coupon that aligns with your purchase, it's time to redeem it.

The process is as straightforward as it gets. Show the coupon on your digital device or print it out and bring it into the store. All you need to do is present your coupon to the cashier during checkout. Your savings will be subtracted from your total bill.
That's it – you've successfully unlocked savings that let you stretch your shopping budget further. Remember, each customer can use one coupon per visit, so choose wisely and make the most of your shopping experience.
Want more free stuff? Check out our Free Samples Page