Duncan Hines Recall: Apple Caramel Cake Mix
December 16, 2016, BY Emma Craig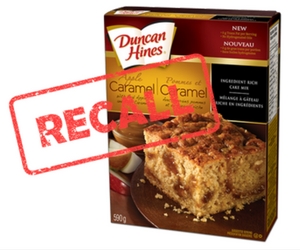 Have you picked up a box of Duncan Hines brand of Apple Caramel Cake Mix? Pinnacle Foods Canada and the Canadian Food Inspection Agency have issued a food recall warning due to possible Salmonella contamination. If you have this product check the Best Before dates and UPC below to see if it is on the recall list. The CFIA advises that you throw away any recalled product immediately or return to the store where it was purchased.
Best Before Dates:
17 AL 07 17 AL 08 17 SE 27 17 JN 29 UPC: 6 44209 02223 6
For more details about this recall, visit the CFIA website.