The Best Ways to Find Free Samples Online
February 25, 2015, BY Emma Craig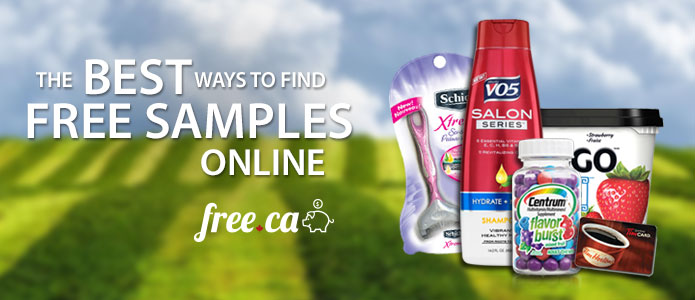 Would you like to open your mailbox and find great free samples from your favourite brands waiting for you? Going to get the mail can become a fun experience when you sign up to receive a variety of samples. From perfume postcards to boxes full of laundry detergent, toothpaste and lotion there are a ton of brands that have samples available. Some of you may not know where to start to get these great freebies, others may just be looking for some tips to get the hottest free samples available online. Here are my
Tips
to help you make sure you get your hands on all the best free samples.
Follow Free.ca
We try to stay on top of all the most popular brands so we are the first to know when a sampling program begins. As soon as we find the free sample, we post it to our site in the
Free Samples section
. To make sure you don't miss it,
follow our Facebook page
and Get Notifications so that it shows up in your newsfeed. Also,
sign up for our newsletter
so that you get all the exclusive offers and the best samples out there.
Be Quick
Samples often go very quickly. Sometimes there are only 1,000, other times there are 10,000 or 100,000, which means you and everyone else online are competing to scoop up these samples.
The quicker you can get your request in the better your chances of getting your hands on these valuable samples. Don't get frustrated if you miss the first few, sometimes they will release limited quantities at a certain time of day, so check the fine print to learn as much as you can about how they are sharing their sample. Any hints from the brand will be helpful in successfully scoring these freebies.
Follow Your Favourite Brands
If you love Cream of Wheat for breakfast, cook with Mrs. Dash, use L'Oreal makeup or clean with Finish products, be the first to know about free samples being offered by following these brands on social media platforms. Like their Facebook page, follow them on Twitter or even sign up for their emails so you are the first to know when sampling programs open up. Knowing what these individual brands are up to, is your best chance to get samples for things you actually use.
Check out our Brand Page
for all the links to their social and web pages.
Scour the Internet
You can find samples in some of the strangest places, from social media, to brand websites to hosting sites by a third party. If you are looking for some of those rare samples, take to your
search engine
and see what you come up with. When you are searching for samples through a search engine, use words like
"Free Samples in Canada"
,
"Canadian Samples"
or be more specific and try
"Finish Canada Samples"
. Try different variation to get different results. Searching this way can be hit and miss, but it's a great way to look for something more specific. You can even try to sign up for an RSS feed and be able to go through hundreds of different sites in one spot.
Make Sure You Get Your Goodies
Read all of the instructions
carefully to make sure you don't miss any critical information. It starts with our posts where we will tell you how, when and where to get your free offer. Once you click on the link to get your sample, read the request form carefully and fill out your information.
Signing into Accounts
– Some brands like P&G Brandsampler and Sample Source will require you to sign in to request your samples. When you are creating your user names and passwords for samples, make sure you pick a password you only use to freebies not for your online banking or important personal accounts.
Email
– Use a correct and valid email to sign up for your free samples. Sometimes you need to confirm information, and if this isn't done your samples won't be shipped to you. I recommend you create a specific email address for your samples, coupons and contests way you can keep your deal separate from your personal stuff.
Screening
– Some companies will have you do a short survey to determine which samples are best for your household. Answer honestly, so that way you can get the samples that are most relevant to the people you have at home. For example, not getting kids samples if you don't have children.
When you are on the hunt for freebies, you will sometimes come across fake sample sites that are just trying to collect data for spam purposes. Before we post samples at Free.ca we test everything to make sure it works and is available to Canadians. We try not to post any 'fishy' offers or sites that we don't trust. Nothing is every fool-proof so if you come across something that you believe to be fake, please let us know!