October 14, 2023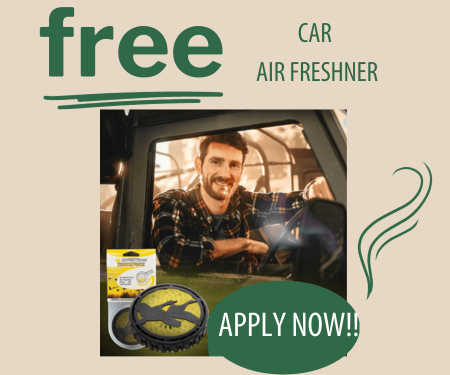 Free Truck Puck Car Air Freshener
How to Score a Free Truck Puck Car Air Freshener & Deodorizer!
Are you tired of the same old car air fresheners and in need of a refreshing change? Well, you're in luck! I've stumbled upon an exciting opportunity that allows you to try the all-new Truck Puck Car Air Freshener & Deodorizer for Free. Yes, you read that right – no strings attached! In this post, I'll guide you through the simple steps to snag your own Truck Puck sample and share how you can be part of their sampling & insights program.
What's the Buzz About Truck Puck?
Before we dive into how to get your hands on this fabulous freebie, let's talk a bit about what makes Truck Puck so special. This innovative car air freshener comes in five unique scents, each designed to elevate your driving experience:
Watermint (minty): Experience the refreshing, invigorating aroma of mint as you hit the road.
High Range Cedar (earthy): Bring the great outdoors inside your car with the grounding scent of cedar.
Campfire Nights (smoky): Transport yourself to a cozy campfire setting with this nostalgic smoky fragrance.
Tillin' and Chillin' (citrusy): Embrace the zesty and vibrant citrus notes that keep your car smelling bright and lively.
Citrus Sky (lemon vanilla): Enjoy the soothing and sweet blend of lemon and vanilla as you cruise along.
How to Get Your FREE Truck Puck Sample
Now, let's get down to business and secure your free Truck Puck Car Air Freshener & Deodorizer sample:
Visit the Truck Puck Website: First things first, head over to the official Truck Puck website. It's your gateway to automotive freshness!
Apply for Your Sample: Look for the "Apply Now" button or a similar option. Click on it to kickstart your journey to a better-smelling car.
Fill Out the Form: You'll likely be asked to provide some basic information, such as your name and shipping address. Rest assured, this is standard procedure for sampling programs.
Submit Your Application: Double-check your details, hit that submit button, and voilà! Your request for a free sample is on its way.
Share Your Feedback: Once you receive your Truck Puck, put it to the test in your car. Use it regularly and pay attention to how it transforms your driving experience. Afterward, don't forget to share your honest feedback with the brand. Your insights will help fellow car owners discover the perfect air freshener for their rides.
Remember, supplies are limited, so don't wait too long to apply. This is your chance to revitalize your ride with one of these fantastic scents, and it won't cost you a dime!
Truck Puck is on a mission to bring joy to car owners everywhere by offering a free sample of their innovative Car Air Freshener & Deodorizer. You get to enjoy a fresh-smelling car, and your feedback helps others do the same. So, why wait? Apply for your free Truck Puck sample today and embark on a journey to a more fragrant and enjoyable drive!
Want more free stuff? Check out our Free Samples Page