March 11, 2019 Expires On April 26, 2019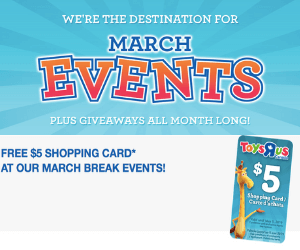 Toys R Us is celebrating March Break with free in-store events and by giving away a free $5 shopping card!
Every day, there will be a new event in-store. The events are:
Monday: (1 PM - 3 PM): Dragon Trainers Unite! - Celebrate the return of How to Train Your Dragon with a puzzle make & take and tote bag giveaway
Tuesday (1 PM - 3 PM): Design & Create a Bracelet - Create a unique bracelet with the KumiKreator from Spin Master
Wednesday (1 PM - 3 PM): It's Morphin' Time! - Take part in Power Rangers training activities and get some free swag
Thursday (1 PM - 3 PM): Build a LEGO City Dragster - Make and take your own dragster
Friday (1 PM - 3 PM): Express Yourself with Beads - Make and take a unique bracelet or keychain with the Alphabet Bead DIY activity
Since spring break is different in every province, the free days coincide with your province's spring break. You'll get a free $5 shopping card when your child participates in an event. The card is valid until May 5th.
If you like this offer, don't forget Cineplex is offering $2.99 movies all week long during March Break!