September 11, 2023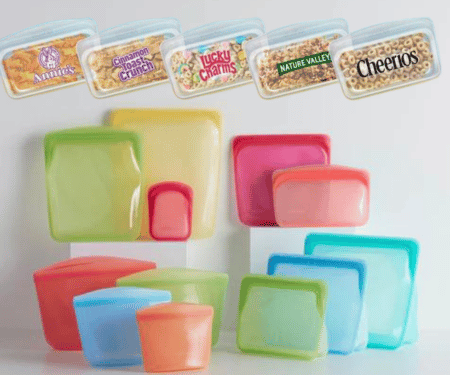 FREE Stasher Snack Bag
Want to get a free Stasher snack bag? I've got some awesome news to share with you! I recently find an offer to score a free Stasher Snack Bag, and you can get one too! Let me tell you all about it so you can participate in this fantastic offer!
You can get a free Stasher Snack Bag when you make a purchase of any 2 participating General Mills products, any 3 participating Nature Valley or Fruit by the Foot products, or any 3 participating Annie's Macaroni and Cheese products, all on one valid receipt.
It's super easy to take part in this offer. All you need to do is head to your favorite store and pick up the participating products. Make sure to do it before October 31, 2023, so you don't miss out!
Once you've made your purchase, snap a photo of your receipt. Yep, it's that simple! Just grab your phone, take a clear picture of the receipt, and you're halfway there. Next, you'll need to upload a photo of your receipt. Make sure to upload the photo by October 31, 2023. That's the deadline, so don't forget to mark it on your calendar. After that, all you have to do is wait for validation. Once they've verified your receipt, you'll receive a free Stasher Snack Bag as a reward for participating. How cool is that?
I must say, I'm really loving this offer. Stasher Snack Bags are super handy for storing snacks, sandwiches, and all sorts of goodies. Plus, they're reusable and eco-friendly, which is always a win in my book!
So, what are you waiting for? Grab those participating products, snap that receipt, and claim your free Stasher Snack Bag. I can't wait for you to get yours and enjoy this fantastic offer's benefits!
Want more free stuff? Check out our Free Samples Page