August 3, 2023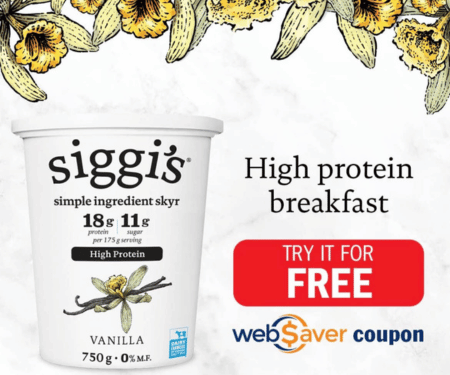 Free siggi's Yogurt at Walmart
Hey there, Free siggi's Yogurt lovers! I've got some fantastic news for you. If you've been craving a taste of creamy, rich yogurt goodness without breaking the bank, you're in for a treat! You can now get some right now. It's quick, easy, and simply delicious!
Here's how you can claim your free siggi's yogurt:
Visit the linked page, fill in your details and claim the coupon for a free siggi's yogurt. Wait 1-2 weeks for it to arrive by mail. Next, head to your nearest Walmart store. Don't forget to bring the selected coupon with you. At Walmart, find the siggi's yogurt section, and pick your favorite flavor from the wide range of options available. At the checkout, present the websaver coupon to the cashier. They will apply the discount, making your chosen siggi's yogurt completely free!
Now, let me tell you a bit about siggi's Icelandic-style yogurt. It's no ordinary yogurt – it's made with simple, wholesome ingredients and minimal sugar. The result is a thick, creamy texture that's rich in protein and packed with probiotic milk cultures. Each spoonful is a delightful experience that will leave you wanting more.
It's essential to note that this free sample offer is not from my website or me. I'm simply thrilled to share this opportunity with you, as I know how much we all enjoy trying new products, especially when they're free!
So, what are you waiting for? Click the link below, claim your websaver coupon, and head to Walmart to enjoy the goodness of siggi's yogurt for free.
Want more free stuff? Check out our Free Samples Page
Please make sure to check the coupon's terms and conditions, and remember that availability may vary. Enjoy your delicious, creamy experience, and happy savoring!
Note: This is a limited-time offer, so act fast to secure your free siggi's yogurt. Cheers to good taste and great savings!