October 17, 2023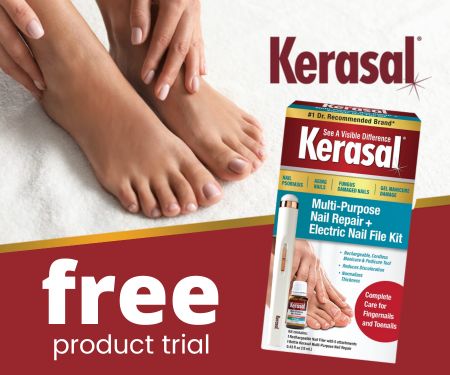 Free Kerasal Multi-Purpose Nail Repair Kit+ Electric File Kit
Unlock Gorgeous Nails for Free: The Kerasal Multi-Purpose Nail Repair Kit
Hey there, nail care enthusiasts! I've got some exciting news to share with you today. Imagine getting your hands on the Kerasal Multi-Purpose Nail Repair Kit, a fantastic 2-in-1 solution to enhance the health and appearance of your nails. And guess what? It's not about me or my website offering this; it's about how you can grab this kit for free. Let me walk you through it!
This innovative kit from Kerasal is a game-changer for those looking to improve the condition of their nails. It includes a clinical-strength nail repair solution and a professional-grade electric nail filer. Together, these tools are designed to help enhance the appearance of your nails, making them look their best.
Here's how you can get your hands on this fantastic kit:
Enter Your Information: Provide your information through Kerasal's website. This is your first step to being considered for their insights and reviews program.
Become a Product Tester: If you're selected, you'll have the opportunity to try the Kerasal Multi-Purpose Nail Repair Kit for free. This isn't just about free stuff; it's about helping Kerasal improve its products and sharing your valuable feedback.
Experience the Transformation: Use the kit as directed and note the changes you see in your nails. This isn't just about looks; it's also about healthier nails.
Share Your Thoughts: After giving the kit a try, share your honest feedback with Kerasal. Your insights can help them refine their products, making them even better.
This is a fantastic chance to take your nail care routine to the next level without spending a dime. And it's not just about the freebie; it's about being part of a process that aims to create top-notch products. A quick tip to maximize your chances is when sharing your feedback, be detailed and specific. Your insights can make a significant difference in product development.
So, if you're excited about the prospect of healthier, more beautiful nails, don't miss out on the Kerasal Multi-Purpose Nail Repair Kit. Join their insights and reviews program, and get ready for a nail transformation that won't cost you a thing. Your nails will thank you!
Want more free stuff? Check out our Free Samples Page