September 5, 2023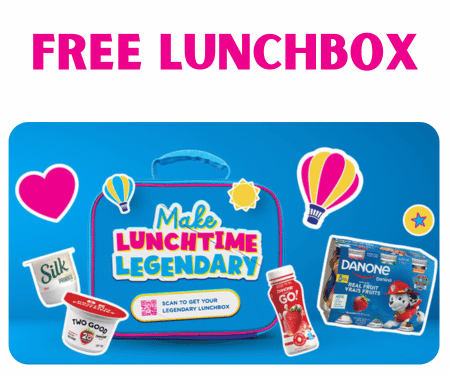 Free Legendary Lunchbox from Danone Canada
Want to score a Legendary Lunchbox from Danone Canada?  I've got some exciting news to share that I think you'll absolutely love. You know those days when you're on the lookout for something special to brighten up your routine? Well, I've stumbled upon a fantastic opportunity to get a free legendary lunchbox from Danone Canada!
All you have to do is spend a total of $15 on these awesome Danone Canada products anytime between August 5th and September 25th, 2023. The best part? You don't have to make all your purchases in one go. You can spread them out across different shopping trips. How convenient is that?
Stroll down the grocery store aisles and get a bunch of select Danone Canada products. You know, those goodies like Danone Go, Danino, Silk Plant-Based yogurts, and yogurts. These delicious treats are your way ticket to a Legendary Lunchbox.
Once you've racked up enough goodies in your grocery cart and hit that $15 mark, snap a clear photo of your receipt. No need for fancy photography skills, just make sure the details are visible. After that,  simply upload the photo and register your submission.

You should receive a confirmation e-mail to let you know everything is on track.
But wait, there's more! This isn't just about nabbing a free legendary lunchbox for ourselves. For every valid submission they receive during this promotion, Danone Canada will generously donate $25 to the Breakfast Club of Canada. They're aiming to hit a maximum of $22,500 in donations. Can you believe that? Helping others while treating yourself!
Once you've got your purchases and photo ready, it's time to sit back and relax. As soon as you reach that $15 threshold, you'll unlock your very own free Legendary Lunchbox. It's like a little reward for being a fan of Danone's awesome products.
It's not often you get to enjoy your favorite snacks and contribute to a great cause at the same time. So, my friend, if you're as excited as I am about scoring a Legendary Lunchbox, head over to your nearest store, fill up your cart with those participating Danone products, and let the magic happen!
Want more free stuff? Check out our Free Samples Page