February 19, 2019 Expires On April 30, 2019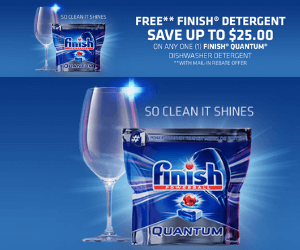 Want free Finish dishwasher detergent? Right now, get a FREE Finish detergent product worth up to $25 with this mail-in rebate form. Purchase any Finish Quantum Dishwasher Detergent, and complete the mail-in rebate form to receive up to $25 to cover the cost of the product and taxes back, by mail. Not valid on base Finish All-in-1. Be sure to keep your receipt for your form. Your purchase must be made between January 31st and April 30th, 2019.
If you like this offer, don't forget to check out their other rebate for free Finish quantum!