October 6, 2022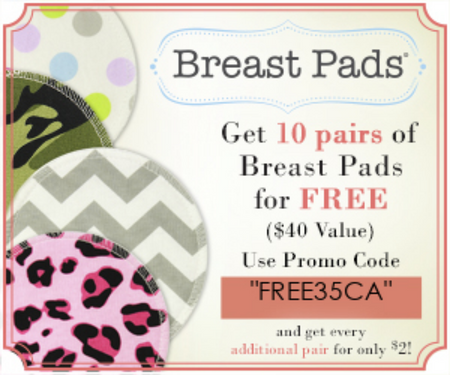 One of the most over-looked necessities for any breast-feeding mom is probably the breast pad. At least for me, I had absolutely no idea how important these little guys would become!

Lucky for you, we've got you covered (literally!) with an exclusive promo code for Breastpads.com so you can pick FIVE 2-pair/4-packs (normally $7 each) absolutely free - that's TEN pairs total. All free! Here's the code: FREE35CA

There are so many colours and designs to choose from, so you'll have lots of ways to stylize an otherwise not-so-stylish product. You'll have to cover the shipping, which is in USD, but the value you're getting makes it 100% worth it. So don't delay, grab yours before they run out of stock!

Not only are you going to get TEN pairs for FREE, you'll also be able to add additional pairs for only $2! So make sure you use our code: FREE35CA and head on over to BreastPads.com now!