September 19, 2023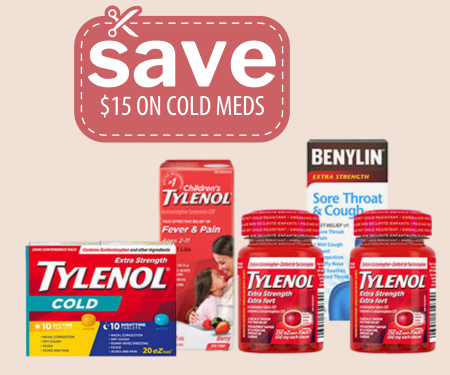 Spend $50 and Save $15 on Cold Meds
Save $15 on Cold and Flu Essentials! As the back-to-school season approaches, it's necessary to be prepared for the challenges that come with it, including the inevitable cold and flu season. To help you stay ahead and save on medicine cabinet essentials, I've discovered a fantastic opportunity to save $15 when you spend $50 on Cold Meds. It is an easy process, and I'm here to tell you how to get the discount!
Securing your coupon for savings is a straightforward process. Visit the Amazon brand store page where the coupon is being offered, and look for the section or promotions related to Tylenol and Benylin products. Ensure you have an Amazon account, as you will need it to apply the coupon during checkout.
With your $15 coupon in hand, it's time to shop for your cold and flu essentials! Add the selected products you need to your cart, making sure the total reaches $50 or more. Proceed to checkout when you're ready to complete your purchase confirm your order, and you'll enjoy a $15 discount on your essential items.
Getting ready for the back-to-school season includes preparing for the challenges of cold and flu. With this money-saving coupon, you can stock up on cold meds to stay Cold and flu season-ready while keeping some extra cash in your pocket. Happy shopping and stay healthy!
And there you have it, an informative guide on how to get and use a $15 coupon for Cold and flu essentials. Enjoy your savings and a sniffle-free school year!
Want more free stuff? Check out our Free Samples Page