August 3, 2023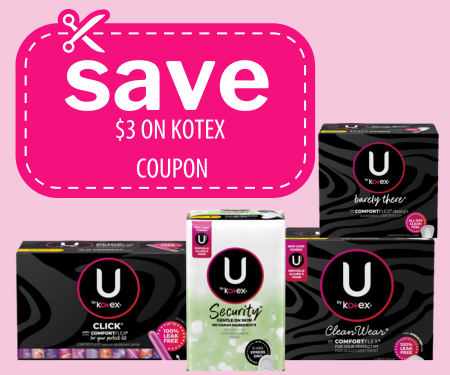 Save $3 on U by Kotex Coupons
Want to save up to $3 on U by Kotex Products? So, I just found out about these coupons, and I couldn't wait to share them with you. You know how we always try to find ways to save on our everyday purchases? Well, here is an incredible opportunity to save up to $3 on U by Kotex products. I thought you might want to get in on these coupons too!
Imagine being able to save on your next purchase of U by Kotex® tampons, pads, or liners with these money-saving coupons. It's such an easy way to get a discount on products we use regularly. I couldn't believe it at first, but now I can't wait to tell you all about it.
The best part is that you don't have to jump through hoops or do anything complicated to take advantage of this offer. It's as simple as registering for a Ubykotex account and grabbing the coupons. Once you're there, you'll see a list of the products eligible for the discount. Just pick the ones you need, and you'll be on your way to saving money. They've made it super easy for everyone to get these coupons, and that's why I had to share it with you!
Don't miss out on this fantastic opportunity to save up to $3 on U by Kotex products. Take it from me; it's an excellent way to cut down on your expenses without compromising on quality. Grab your coupons, and start saving today!
Happy savings!
Want extra savings? Check out Flipp. This is your one-stop marketplace for savings and deals. Search for products you have coupons for and combine them for extra savings!