May 25, 2023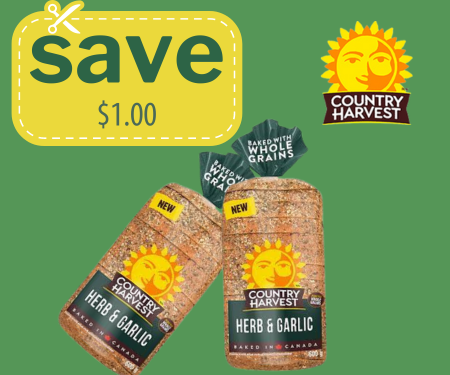 Get a Country Harvest Garlic and Herb Loaf for cheap with a $1 off coupon! This new loaf is a flavorful and aromatic bread that combines the classic combination of herbs and garlic, it is carefully crafted using a blend of premium ingredients, including high-quality flour, herbs, garlic, and other natural flavors. Keep reading and scroll down to claim your $1 off Coupon on any purchase of Country Harvest Garlic and Herb Loaf.

You should be able to get two prints of this coupon, and of course if you would like more prints, you can always try the link in a different browser. Use flipp to see where you can get it on sale. I noticed that No Frills has a PC Optimum points offer involving Country Harvest Bread right now where you can earn 3,000 PC Optimum points for every $9 that you spend on Country Harvest Bread. That means that this week you can get a loaf for just $1 each if you take advantage of the offer.


Take advantage if you can! In my opinion this is a great deal!