November 8, 2018 Expires On December 31, 2018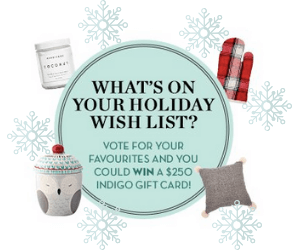 The holidays are right around the corner, which means it's already time to start thinking about your holiday shopping. Enter this House & Home contest for your chance to win a $250 Indigo gift card! Think of the great gifts you could buy with that prize.

To enter, simply scroll through the image gallery and select your favourite Indigo gift guide then provide your information on the entry form.

If you like this contest, be sure to enter another one we posted for the chance to win a $2,000 Giant Tiger gift card. Enter both while you have the chance. Good luck!