February 7, 2019 Expires On March 3, 2019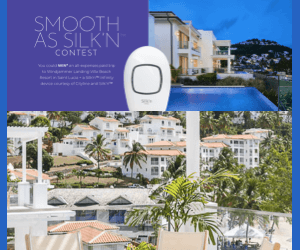 Could you use a vacation? Cityline, Silk'n, and Windjammer Landing Resort are giving away 1 free all-inclusive trip for 2 to Saint Lucia.
The trip includes roundtrip airfare, 4-nights accommodation at the Windjammer Resort, all-inclusive food and beverages and a Silk'n Infinity device.
To enter, fill in your contact information on the entry form. This contest is not open to residents of QC.
If you like this contest, check out another one we posted for the chance to win a trip from Sunwing.
Want to win even more prizes? Enter all the contests on our site.