February 13, 2019 Expires On March 3, 2019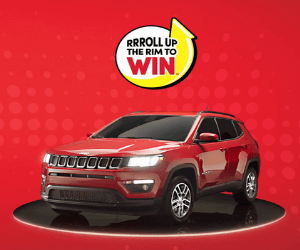 Could you use a new car?
Tim Hortons is giving away a free Jeep Compass! They are giving away this car in conjunction with Roll Up The Rim but this contest is separate. To enter, post a photo in the comments with your Roll Up The Rim cup and use the hashtag #RollUpTheRim. To enter without making a purchase, send their Facebook page a direct message that includes your first name, email address and a 50-word (or more) unique and original essay on "I love Roll Up The Rim To Win".
If you like this contest, be sure to check out all the other Roll Up The Rim prizes.